Thanksgiving is over.
It always seems surprising to me because of such build up to
Thanksgiving and for all the work that goes into the one big meal. It is definitely one of my favorite meals of
the year, how can it not be with all those delicious dishes!
My favorite part of the big meal though? The leftovers.
I'm sure that you all have been eating leftovers for several
days like we have, but the leftovers will continue to go a lot farther in our
house.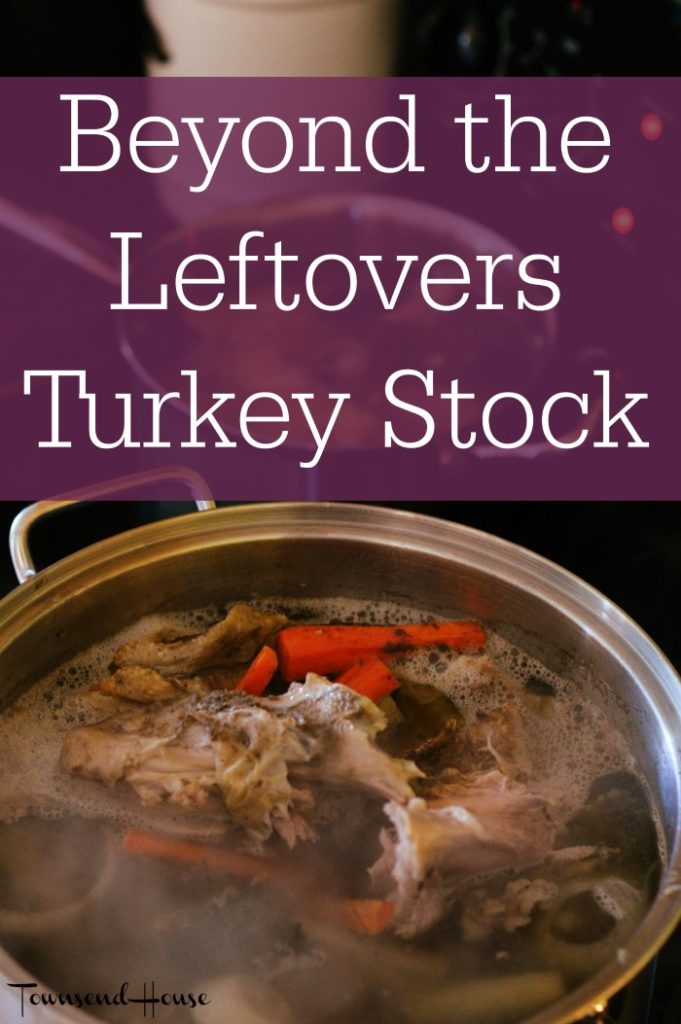 Whenever we have a turkey – which is honestly only once a
year – I want to make sure that I use up the turkey. Not just the white meat on Thanksgiving, and some
turkey sandwiches or a turkey and rice soup, which are all great things in
their own right, but I also want to be able to use those leftovers during our
very busy Christmas season and into the New Year.
One way that I have done that in the past is to put together
turkey pot pie in a bag – literally just cut up turkey and gravy in a freezer
bag. Then when I want to make a pie, I
only need to take the bag out of the freezer, let it thaw overnight put in a
pie crust and then throw some frozen veggies in (my kids like green beans and
peas). Bake at 450 degrees for 10
minutes, and then turn the oven down to 350 degrees and let it go until the
crust is done and it is bubbling – super easy!
The other way that I really like to use up the turkey,
though, is to make turkey stock.
I love to make my own stock, I typically make veggie stock most of the time because onions carrots and celery are all pretty
inexpensive to get at the store, much more so than purchasing those cartons of
organic vegetable stock.
But, I do love a good bone broth in the winter.
Bone broth is incredibly healthy for you – especially during
the winter time. The minerals it
contains are all immune boosting, which is important with all the germs going
around. It also contains healing
compounds such as proline, glycine, collagen, and glutamine. And the collagen in bone broth helps to heal
your gut lining. (source)
See, definitely a great thing to have on hand during the
winter!
Bone broth is incredibly simple to make – take leftover turkey bones (it is the turkey carcass, let's just accept that is what it is called), put in a very large stock pot (10qt or larger), cover with water, and simmer
all.day.long. The all day part is the
most important. You need to give the bones
time to release all the great nutrients.
Once you have simmered the turkey, you can then let it cool
overnight and then put into gallon size freezer bags to lay flat and freeze
(then conveniently stack) to use for soups, stews, and chili throughout the
winter.
Today is the day that I plan to start my bone broth,
typically I do it over the weekend, but we were busy putting up our tree, and I
forgot to put it in. So my house will
smell delicious today! What are some ways that you use up
leftovers? Do you make bone broth?