There is something about knitting with 4 needles that is so fun for me! Not that I am knitting the most difficult pattern in the world, but regardless it is fun. Jack's hat is coming along nicely. I think I am about half done with it. I want to make sure that it is a little longer, because I find the kids like to fold up the front of the hat. It is a simple k3 p2 rib until the decreases. And surprisingly, I have learned that doing decreases on a hat are not entirely hard. Once I actually understood the process it made it very easy. Can I explain it to you, faithful readers? No, I cannot 🙂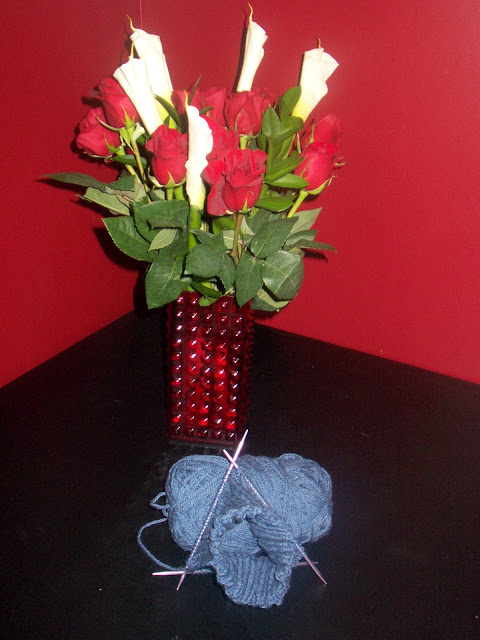 I haven't figured out what kind of yarn I will use for Emma's hat this year. I'm thinking perhaps that I will use the same yarn as I used to knit her sweater. I really like the green blue color, and find that it matches most of the clothes that she has.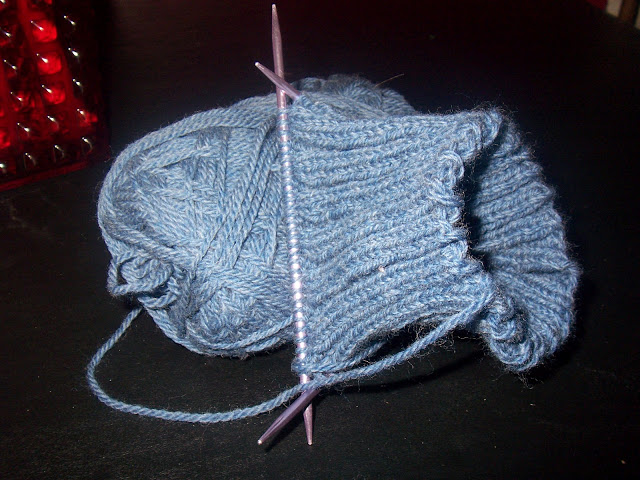 The flowers are from Matt for our anniversary. We had calla lilies at our wedding. I love them. And of course the red roses were a nice touch 🙂 There is something about having fresh flowers in your home. I am looking forward to the days that we can have potted plants around the house. That will be a little while though, considering the kids like to climb up on the table/counters/back of the couch, really anything that is off the ground, so I am slightly concerned that if I had a potted plant on the floor, they would be in it. I clean enough crumbs off the floor, I can't add dirt right now too!
As for the book that I am reading, well I did end up pulling out those history books I was talking about last week, but I haven't read them yet. They are sitting right next to me actually! Instead, I had seen the book 7: An Experimental Mutiny Against Excess on another blog and decided to purchase it. It is really interesting so far. The premise is that the author realized she had too much excess in certain areas of her life, so over 7 months she took 7 areas of her life and reduced them to 7 "things." The first month was food, so she chose 7 foods that she could eat for the month. She had a council of friends that helped advise her, and with the food she was allowed salt, pepper and a bit of olive oil. No other spices. The next chapter is clothes, so she picks 7 items of clothing to wear for the month. It is written in journal form, and really interesting so far. What would it be like to limit ourselves, instead of taking as much as we want, and far more than we actually need?
I am joining Ginny in her yarn along today!