Roasted Sweet Potatoes Recipe
We have had a relatively cold spring here in Maine. Because of that, I have still been roasting lots of root vegetables. Recently I started roasting sweet potatoes and adding them to the other veggies that I love to roast (onions, white potatoes, carrots, portobello mushrooms).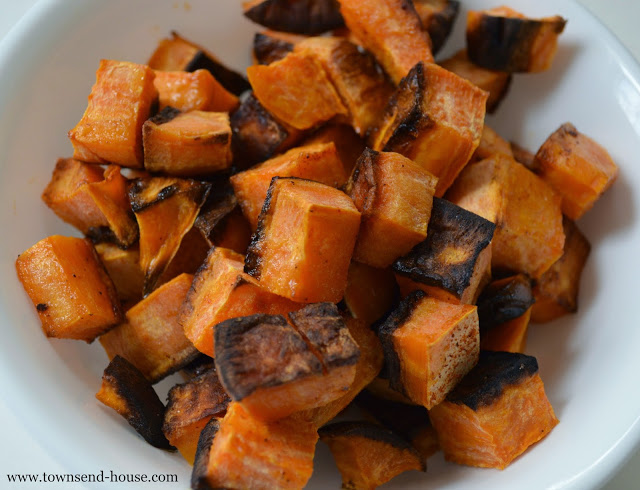 My kids love mashed sweet potatoes, and I love sweet potato fries, so I decided roasted sweet potatoes would be a great idea as well! I have made them several times in the past, but they haven't been featured on our menu rotation until recently.


This is a super easy recipe that is great for a side dish, or snacking. I have been trying to roast up a bunch of veggies on Fridays to have on hand for snacking throughout the weekend, although they often don't last that long.


Roasted Sweet Potatoes


2 large sweet potatoes, peeled and diced
Coconut Oil or Extra Virgin Olive Oil
Salt


Peel and chop the sweet potatoes until they are about 1″ size pieces.
Drizzle with olive oil or coconut oil – maybe 1-2 Tablespoons.
Sprinkle with sea salt, or table salt, whatever you have available.
Put in 425 degree oven for about 30 minutes, turning half way through.


I also like to sprinkle these with cayenne pepper, before baking, for an extra kick.


The kids and I gobble these up, and they have been on the menu several days a week.


Sweet Potatoes are often thought of as a dessert vegetable, but they are a power house of vitamins as well. One large sweet potato contains almost 100% of your daily recommended Vitamin A. Vitamin A helps with cancer prevention and also helps to maintain good eye-sight. They are also a great source of B6 vitamins. While the sweet potato is sweet tasting, it is low on the glycemic index, so even though they are a starchy vegetable, they aren't going to spike your blood sugar.


Do you love sweet potatoes? What is your favorite way to prepare them?