After Holiday Detox and Meal Sized Salads
Is it just me, or do we all kind of go a little crazy with
food during the holidays? This year I
tried to be better than in years past. I
think the reason I was able to get away with it was because we didn't really go
anywhere around the holidays, not that that is a bad thing!
I was able to cut back on the amount of sugar I ate between
Thanksgiving and Christmas, and I think that helped me to stay healthy for the
first time in 8 years!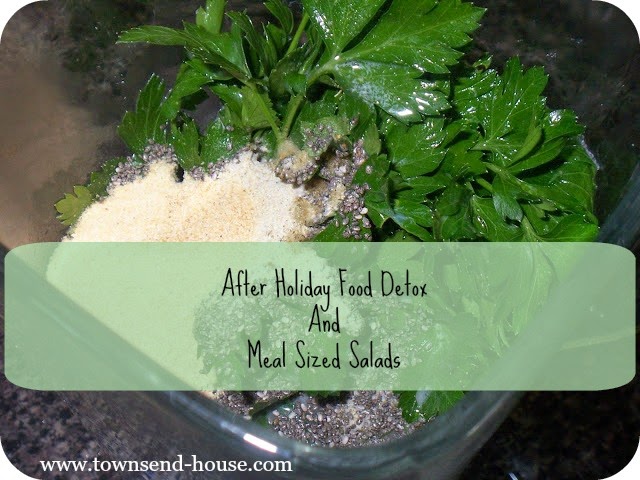 However, Christmas Eve through New Year's Day we ate poorly…very
poorly. I am ready to start detoxing and
getting back to the whole foods diet that is my favorite; lots of vegetables
and fruit with delicious beans and legumes, nuts and seeds, and a little bit of
meat once in a while.
One of my favorite ways to make my body feel better is to
incorporate a lot of salads into my family's diet.
I know what you are thinking, it is January, how can I be
making salads in January?
It is difficult. I
have talked a bit before about my conflicting food philosophies. I strive to eat as much local food as
possible, but there is something about eating a salad every day that makes my
body feel better. I have become a big
proponent on eating what your body craves.
For some reason, salads are it.
It helps that my kids will eat salads every day if they are available.
Over the past year I
have started making meal sized salads.
These meal size salads are made with a lot of greens, and
are most often eaten from a large mixing bowl.

Even though I am eating a salad, I still try to incorporate
local food as well. And what is local in
the middle of the winter in New England?
Root vegetables. A lot of carrots and beets and onions will be included.
What else goes into making a meal size salad? Some things that we include are beans, nuts,
seeds, dried fruit, and a nutrient dense dressing – not all at once, but
usually a couple of those options with the inclusion of the dressing.
My favorite dressing in the winter is this recipe. It is heavy on the parsley, which has many
health benefits.
Parsley can help reduces the risk of cancer, and is a great
source of vitamin C and folic acid. It
helps with inflammation and boosts your immune system. Overall a wonderful herb to include in a
nutrient dense dressing – not to mention it tastes delicious!
While most people
think of salads as a side to a main dish, we often include the salad as the
main dish.
Are you still
recovering from all the rich food of the holidays? Do you try to detox in the New Year to get
your health on track? Have you tried
meal size salads?