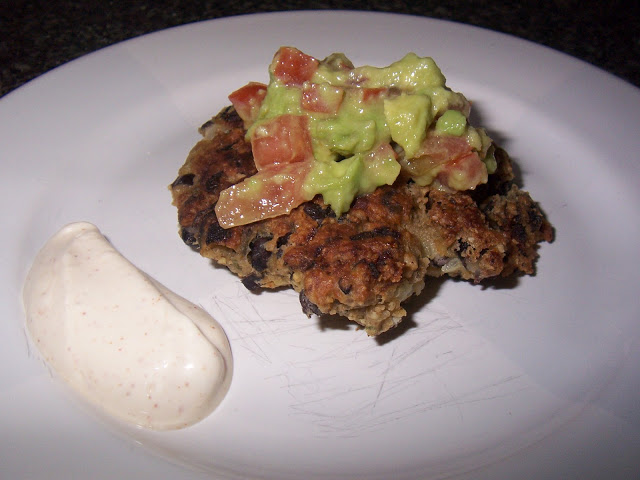 You may have noticed that we eat a lot of beans around here. My favorites are black and pinto, I'm not entirely sure why, but because of this I am constantly trying to find ways to recreate them. We do get bored of chili and black bean burritos. I saw a recipe in my whole food kitchen workshop on black bean burgers, and while they looked great, I thought that I could do something different and easier. Remember, I have an aversion to recipes 🙂
Black Bean Burgers
3 cups cooked black beans
1 1/2 cups rolled oats pulsed in blender or food processor to flour
1 onion finely chopped
2 eggs
1 tsp salt
2 tsp garlic powder (or chop some fresh garlic and add it)
1 T chili powder
extra virgin olive oil to drizzle
Mash black beans, oat flour, onion, and seasonings together with a potato masher until combined. Add 2 beaten eggs and mix together. Form into patties and then drizzle with olive oil. Heat frying pan to medium-high heat and cook. Make sure they are cooked in the middle because of the egg!
Chipotle mayonnaise
1/2 cup mayonnaise
1 tsp ground chipotle pepper – or – 1 chipotle in adobo finely chopped
This is quite spicy so you can change the seasoning amount to taste!
Linking up to Your Green Resource!