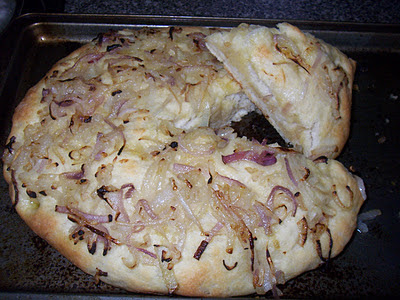 I was planning on reporting on my fermented concoctions today, but they still need to sit a bit longer, so instead I will be talking focaccia! This is only my second time making focaccia, and honestly I don't know why. It is some of the easiest bread to make…seriously. The last time I made this, I used roasted garlic on the top…a lot of roasted garlic. Edward was definitely not knocking on my door that night…or any night actually…hmmm…Anyways! It was delicious, but unfortunately I am out of garlic right now. What I did have on hand were onions from our CSA share on Monday.
adapted from Better Homes and Gardens New Cook Book
1/2 c flour
1/2 c warm water
1 1/2 tsp active dry yeast
1 c warm water
~4 c flour
2 tsp salt
4 small – medium onions, sliced thin
Mix 1/2 c flour, 1/2 c warm water and yeast in a bowl, cover and let sit overnight.
Slowly mix in 1 cup warm water, salt, and enough flour to make a ball.
Turn out on floured surface and knead in enough flour to make a stiff dough.
Put in bowl and drizzle with olive oil, turning once, cover and put in warm place to rise for about an hour.
While dough is rising, saute onions in olive oil on low. Season with a bit of salt and pepper if you wish.
When dough has doubled in size turn out onto greased cookie sheet, do not punch down.
Let dough rest for 30 minutes.
Stretch dough into a circle about 12 inches being careful not to pop all the air bubbles.
Push fingers into dough every inch or so.
Spread caramelized onions over top and drizzle with olive oil.
Bake at 475 for about 15 minutes, or until it smells/looks done.
We served this with pasta sauce for dipping, or you could use extra virgin olive oil, or eat as is. A couple notes. I used bread machine yeast because it was what I had on hand, I didn't find any problems using that. Also, I definitely did not let the sponge sit overnight…I am not that patient…and I was hungry…but I did wait about 3 hours. It probably would bring out more of a sour flavor if I had let it sit overnight. I think you could easily cook this on a pizza stone, but we don't have one, so we used a baking sheet. Let me know if you try it and like it!