Project Simplify – Kids Stuff
I have talked a lot about toy organization as of late it seems. Or maybe I am talking to myself about it a lot. I have a love hate relationship with the toys that we accumulate. On the one hand, I love to have them available for the kids to play with. On the other hand, it seems like they (and I) get overwhelmed by the amount of toys we have available. Enter this year's Project Simplify. What a great excuse to get a handle on all of the craziness!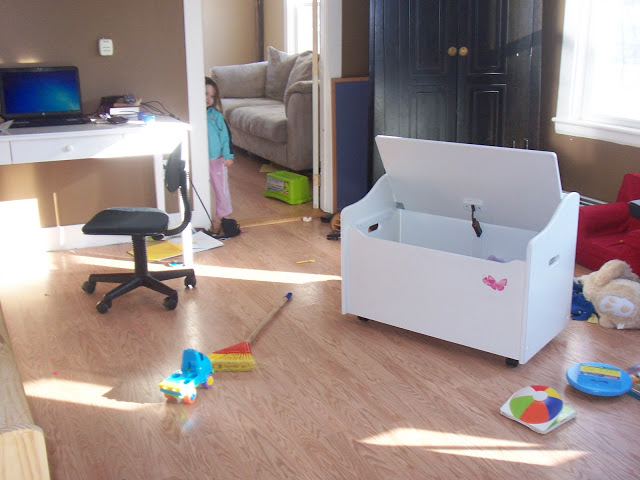 See that toy box? Well, that would be the one toy box that we have in this house, and the rule is that all the toys have to fit into the toy box. You can't really tell from this angle, but there are very few toys actually in the toy box at this point in time. This is a regular occurrence in our home. Every morning all the toys come out, and then before we go to bed (most of the time) all the toys go back in.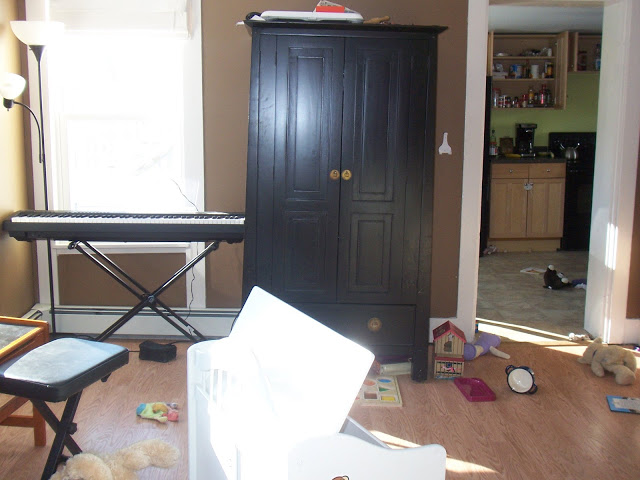 You will have to excuse the open kitchen cabinets. I was doing a big clean up/reorganization in the kitchen as well 🙂 I am sure that you have noticed the toys all over the floor, strewn about and pretty much unloved. Well, I wanted to change that. We have a lot of toys with many pieces, and then also a lot of stuffed animals/friends that the kids love to play with. I needed to somehow get everything organized enough so that I wouldn't be tripping over toys all day long, or having to pick everything up every hour just to see it dumped out again. My kids are still quite small, 3 and 18 months. And while they do help clean up at the end of the day, it takes a lot of reminding to have them do it during the day as well. They frequently like to play with ALL of the toys at once, either burying each other in a pile of stuffed animals, making a fort, or lining up every single book we own to make a balance beam. I like to see them use their imagination, but having all the toys out all the time was making me crazy.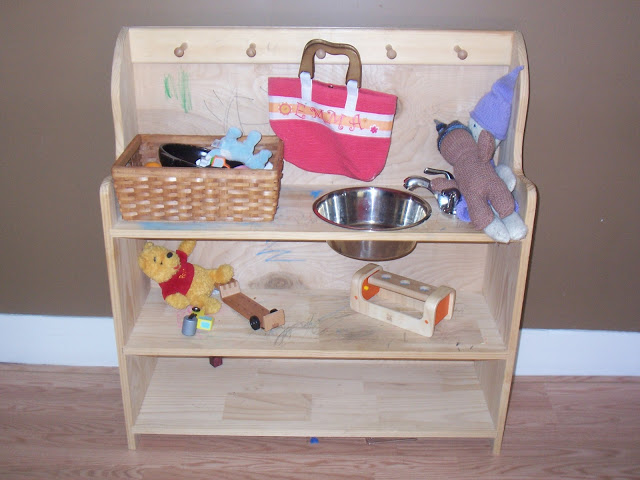 My solution was to move most of their toys upstairs to their unused bedroom. Downstairs they now have one basket which holds most of the play food/tea set/a few trucks and a few stuffed friends. That is it. And surprisingly, they seem to love it. They play with the kitchen stuff longer, and make up stories for the friends. It is fun to watch. It seems like they are more creative with these toys. It also makes clean up a snap 🙂 What about all the other toys? Well, I'm glad you asked.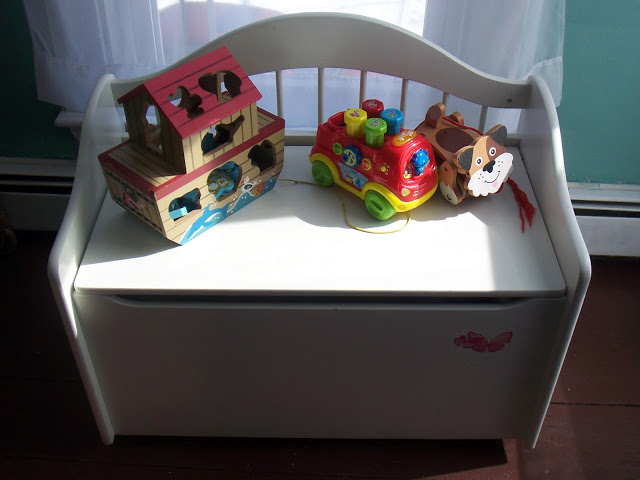 We didn't get rid of them, in case that is what you thought 🙂 A few weeks ago we did go through all of the kids toys and got rid of the broken ones and the ones that had missing pieces. And then we also put a bunch in our donation pile. We do this on a regular basis. It is necessary, especially with all the new toys that seem to constantly make their way into my home!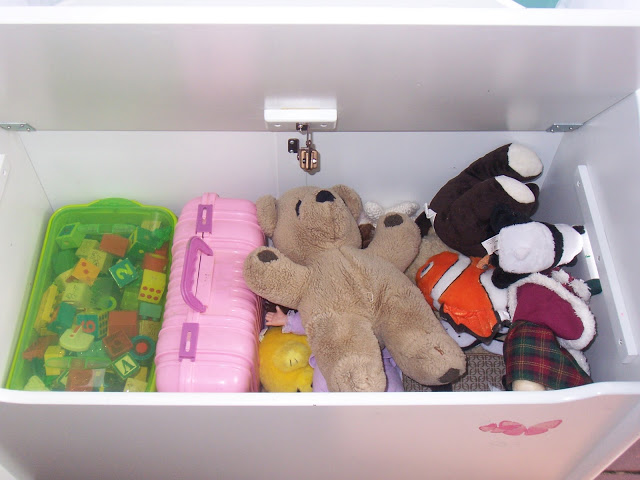 Everything fits! We have the one box with all the blocks/legos/large lacing beads. The pink suitcase was mine when I was Emma's age, and it holds all of my old my little ponies and accessories. And then there are the stuffed animals/friends/all of my wristlet purses that Emma has claimed as her own. While things still get quite unruly when everything comes out of the toy box, it seems pretty easy to clean up now. And as soon as I had taken that picture of the kids' kitchen, Jack came out and dumped the whole basket all over the floor…clean for literally 30 seconds 🙂 I guess that is the life with littles!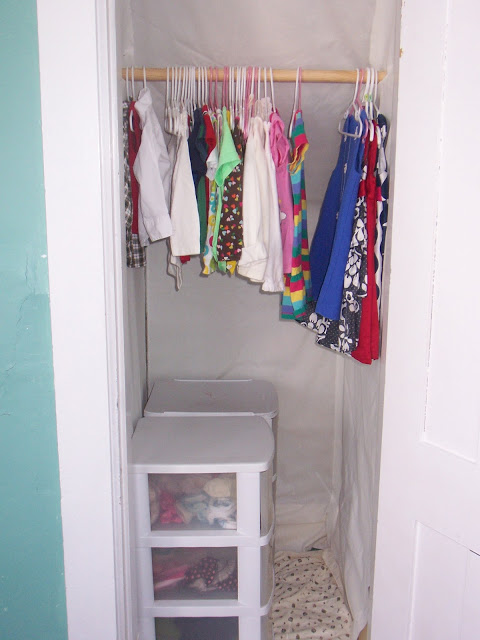 As far as the clothes go, I actually went through all of their clothes right after Christmas. We got rid of A LOT. There were things that I had saved from when Emma was little that I decided I could part with. I also got rid of all the stained items that I always set aside thinking I will scrub them clean. Yeah, it doesn't happen. I try to get the stains out once, but some of the clothes are just destroyed – perhaps the kids shouldn't eat while wearing clothes…just a thought 🙂 After I went through all of their clothes, I decided to finally make the closet in their bedroom usable by hanging a bar. They each get one of the plastic drawers as well. These are left over from my college days, and had been housing a huge amount of office supplies – which I also decided to pare down. This closet will get a little lift soon, we need to make a trip to the consignment store for some new clothes for both kids! They are getting big, and it is amazing to me how fast that is happening…sigh…
I am looking forward to seeing everyone's before and after pictures! Are you joining in with Tsh's project simplify this year? If you are, leave a comment so that I can come and visit your blog! And if you aren't, leave a comment anyways so I can visit your blog 🙂
I'm linking up to Live Renewed for their spring cleaning challenge! And also linking up at the Spring Into Organization Link Party!