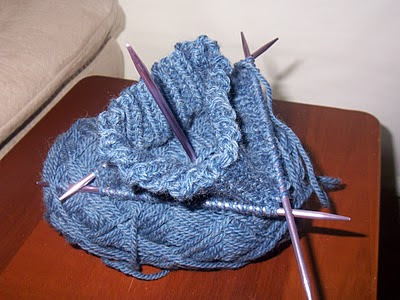 After realizing that fall is here, I decided it was time to pick up my knitting again. Jack needs a new hat for the fall/winter. Imagine my surprise that the hat I made him last year, the hat that I made extra big to tide him over an extra season, is too small for my baby boy this year. So, what is a mama to do? Well, knit a new one of course. I am hoping that I can make a matching hat for my hubs as well. We shall see how long it takes me to knit this one…since Emma deserves a new one as well 🙂 I have a lot of hats in my future I guess.
Actually, I have a lot of knitting in my future…I need to start working on my list for Emma. I also have a few special projects that I am working on for myself…imagine that…in the years I have been knitting I haven't made myself anything except a cowl last year. And that was mainly because it was freezing out, and I needed something to keep me a tad warmer 🙂
Do you knit? Do you have any projects you are working on? And are you able to craft for yourself? Or is it mainly for other people?