There are affiliate links in this post. If you click one of these links and make a purchase I may receive a small commission. Thank you for supporting Townsend House!
When most parents think about summer, they think about their
kids being out of school. Sometimes they
are excited about that, sometimes they are a little frightened to have their
kids home all day every day – how do you keep them entertained?!
As homeschoolers that *do school* all year long, we have a
bit of a different approach to the summer.
My kids were done with their traditional schooling in
mid-April this year. We took a nice 6
week long break. This allowed us to get
through birthday season in our home, as well as visit with family and generally
enjoy the freedom of doing whatever we wanted throughout the day.
Now that we are into June again, we are starting to get into
our Summer Homeschool Rhythm.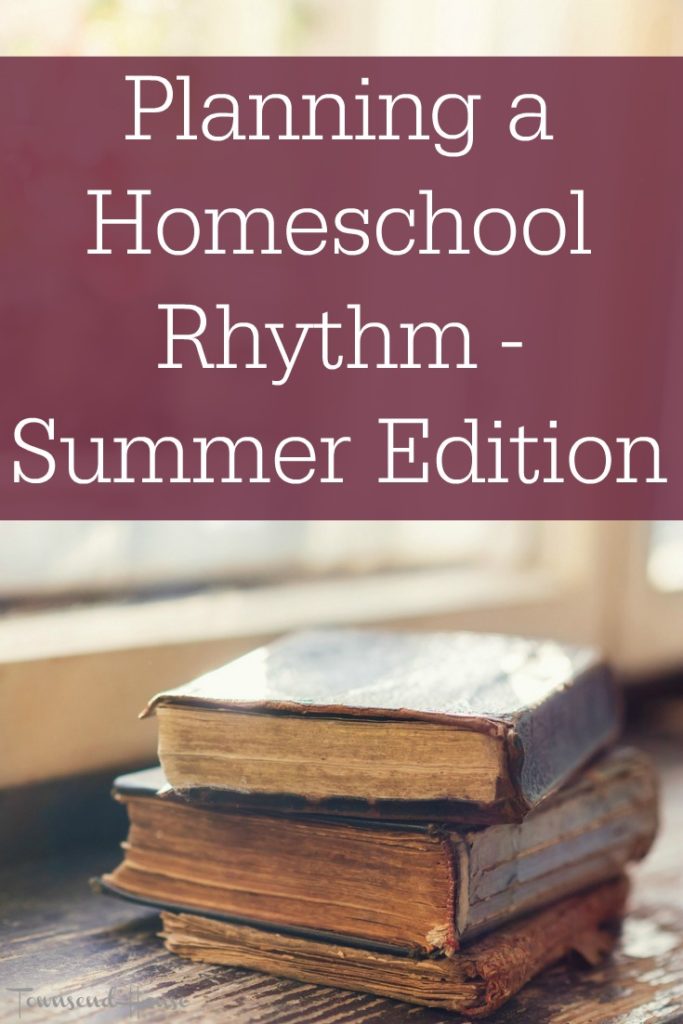 A summer homeschool rhythm is not nearly as crazy as it
sounds. We do not spend all day cooped
up inside at the table. Instead, we
implement a regular rhythm into our days that encourages learning.
The summer months are much more relaxed than our winter
homeschool rhythm. In the winter it is
often so cold that my kids do not want to be outside, and they like to lay
around all day on the couch listening to me read to them, or reading themselves,
or writing a story, or illustrating a comic book. Actually, there are those days in the summer
as well, but for the most part, my kids want to be outside, in nature.
During the summer, our rhythm consists mainly of block
scheduling – and the one subject that works the best for us in the summer is
Science.
I have never been really great at experiments. Not because I don't like experiments, I
do. But, I am not a huge fan of the mess
that comes with them, and the fact that my kids tend to want to follow their
own instructions on how to do the experiment (I am trying to let this
go!). But, during the summer, it is the
perfect time to pull out all those messy science kits go outside, and get to
work.
This summer we are working on Anatomy and Physiology. We
actually tried to start this in the fall, and realized that it was going to be
too much to include with all of our other subjects during the fall/winter. I also realized that Jack was a little young
to fully grasp some of the notebooking activities, so we set it aside until
now.
How do you plan for a summer Homeschool Rhythm?
The first step is to decide how often you plan to have school
during the week. We *do school* about
three times per week during the summer.
It works for us. There are
obviously weeks that we don't do any school because we are on vacation, have
family visiting, or the kids are involved in VBS at church, but I aim for a few
days each week.
Now, those days do not mean that we are doing school at the
table from 8am until 3pm. That is not
the case at all. Instead, we tend to get
to school after lunch time until I put Lucy down for a nap, and then the kids
will work independently for a little while.
That is our intensive school time – from about
12:30pm-3:00pm.
When you figure out how many days you want to have school
activities – anything that is more formal than "go play outside" or "go read a
book" – you can then decide what type of rhythm you want. Do you want to do an intensive science unit
like we are? Do you want to work on the
subjects that you seem to miss a lot during the regular school year by setting
up a loop schedule so you are hitting those subjects more frequently at least
part of the year? Do you want to pick
something to study as a family and incorporate a lot of field trips? Do you want to do all the field trips that
you thought about during the school year, but didn't have time to fit in?
Once you figure out how often you want to do school, and
then what you want to cover, you essentially have your summer homeschool rhythm
down.
I do believe that every day our kids learn something new, as
long as they have the freedom to follow their passions and interests. While we do a summer science intensive, it
isn't the only part of our summer rhythm.
We follow the "read something, play outside, create
something, do a chore" steps before the kids are able to have any screen
time. I also read to the kids every day
as well. Having two kids in separate
literature based curriculum levels means that we are doing a lot of read alouds
every day, and spreading those out over an entire year makes it work for us.
As the months move on we will add in other parts of our
regular homeschool rhythm. After the 4th
of July we will add in the kids new math curriculum, and then in August most of
our other subjects will be added in.
In my personal experience, I have found that my kids do
better when we don't take too much of a break from school. We take breaks when we need to, and having
school in the summer helps break up the summer boredom that is inevitably felt
by every child at some point. Plus this
schedule allows us to take a good chunk of time off around the
Thanksgiving/Christmas holidays which is always a bonus!
The main goal is to keep it light, and to keep it fun. You don't want your children to dread having
school in the summer you want it to be fun so that everyone enjoys their
learning time (including mama!).
Do you do any formal
learning in the summer? Do you have
parameters for your children before they have screen time in the summer?