There are affiliate links in this post. If you make a purchase after clicking one of these links, I may receive a small commission. Thank you for supporting Townsend House!


When my husband and I decided that we were going to
homeschool, the first thing that I wanted to know was what type of reporting we
would be required to do…my daughter was 2 ½ at the time…I was definitely on the
ball! In Maine we have a few different
options, the two standard options are some sort of standardized test, and the
other is a portfolio review by a Maine certified teacher.
One of the main reasons for our decision to start homeschooling was to get away
from standardized testing, so I knew that was not the choice for us. I love scrapbooking, and immediately thought a portfolio would be a wonderful option for our family.
However, when it came time to do my first official portfolio
review last year, I was scared out of my wits!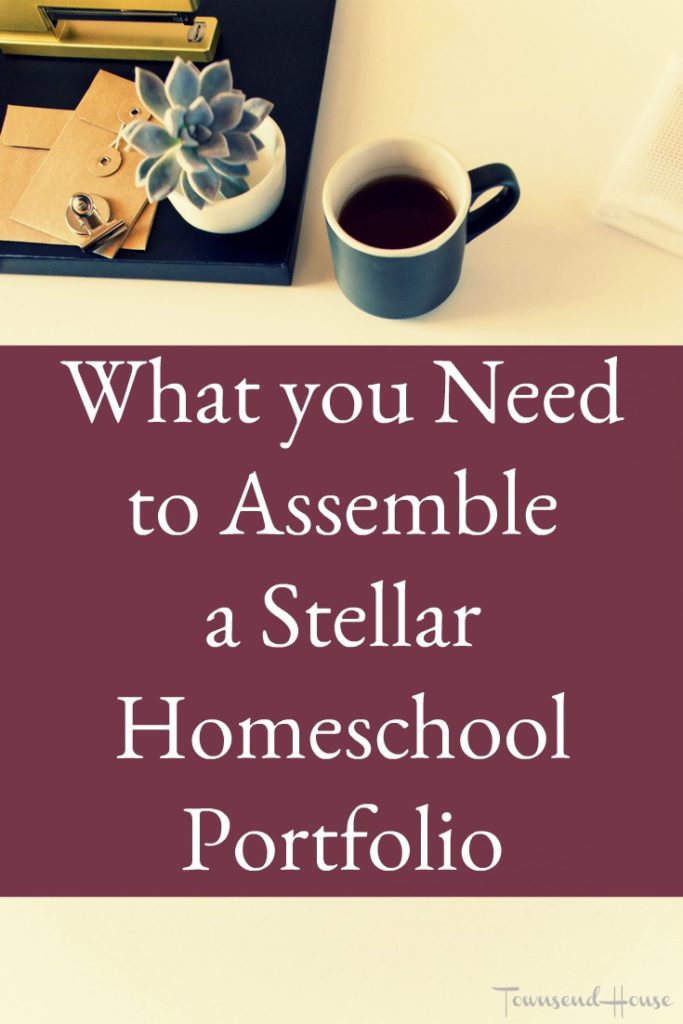 I knew that I had the basics covered and that we could show
"progress" in each of the subject areas, but my biggest question was – did we
do enough?
Today I want to talk to you about the supplies that I
currently use to put together a portfolio for review, and then in my next post
I will talk about what to include in your portfolio.
When I decided on a portfolio review, I thought that I would
obviously make a beautiful scrapbook for each year of school, and for each
child. You may know where this is going
– it did not at all turn out that way.
Instead, I realized that I could barely get baby books made for my kids,
so I'm not sure why I thought I would have a beautiful scrapbook of their
school work for each year.
Instead, I realized that my portfolio needed to be more
functional, and take a little pressure off of me. I was already anxious about having a teacher
sit down and evaluate what we had done, I knew that I did not have the mind
space to be as creative as I had hoped.
Join us for more tips and tricks for homeschool planning and organization!
The first item you will need for your homeschool portfolio
is a binder. I have chosen a 3 inch D-ring binder that is 12×12 – the reason
for this will be clear shortly. I may
not necessarily have 3 inches worth of paper that needs to go in there, but I
like to have the option, and since I have been making binders for the kids for
several years now, there are definitely times that I wish I had a larger
binder.
The next piece to my puzzle is sheet protectors
. I use these for all the papers that I put in
the book. It may be a little extra work,
but knowing that if someone spills something (someone always spills something)
my pages are protected, that makes me happy.
I think it makes for a cleaner look as well, and saves me from punching
holes in all the work, pages, etc.
The next item that I use is 4"x4" photo pocket sleeves. Ever since I
got an Instagram account I have religiously documented my kids and
what they are doing – if we go on a field trip, it goes on Instagram; if they
are doing a special project, Instagram; pretty much anything homeschool related
goes on Instagram. I use a specific
hashtag for my photos that I will use for a homeschool portfolio, and then at
the end of the year I can easily upload them to Snapfish and have them printed
for me.
I also do have some normal 4"x6" pocket sleeves as well for the times that I pull out my nice camera and take actual photos of
projects, artwork, field trips, etc.
But, those are a lot less frequent than my use of Instagram.
I do print out a good deal of information on my HP Deskjet Wireless Printer. This printer is really small, which means I
can easily tuck it away when we aren't using it, but it is a powerhouse and
does a wonderful job printing color, which I love to use. I may not be able to make a legit scrapbook,
but I am going to use as much color and pretty accents as I can manage!
My last items are my *Erin Condren Teacher Planner & Notebook and my Staedtler Pens.
I am a planner, and so I spend a lot of time looking through my teacher planner and writing out exactly what I
want to include in the portfolio before I even attempt to put it together. It makes the "putting together" part so much
more seamless when I already know what order, and what items need to go in the
binder.
Next time I will share what I put in the homeschool binder,
and other items I keep from my kids' school year.
Do you make a
portfolio or scrapbook for your child each year? If your kids are in public school – what do you do with all the papers and projects from the year?
*If you sign up for an Erin Condren account through this link – they will send you a code for $10 off your first order!
Linked to – Homeschool Nook