How to Rock your Back to Homeschool Routine
This shop has been compensated by Collective Bias, Inc. and its advertiser. All opinions are mine alone. #CreatedWithHP #CollectiveBias
I can't believe we are already at the point of thinking about our back to homeschool routine. But, alas, here we are! One of the biggest concerns that we all have getting back to homeschool is figuring out a good routine. Honestly, this is part of the reason we have chosen to do school year-round. This gives us the opportunity to change up our routines seasonally. However, Fall is most definitely a big back to school time for us. One where we have managed to get all of our subjects back into the rhythm of our days. But, how do you get to that point? How can you encourage your kids to embrace a new school year?
The easiest way to encourage a good rhythm and routine is to create a daily habit tracker and print it out on my HP DeskJet 2636 All-in-One Printer, which is a NEW Limited Edition Walmart Exclusive printer​.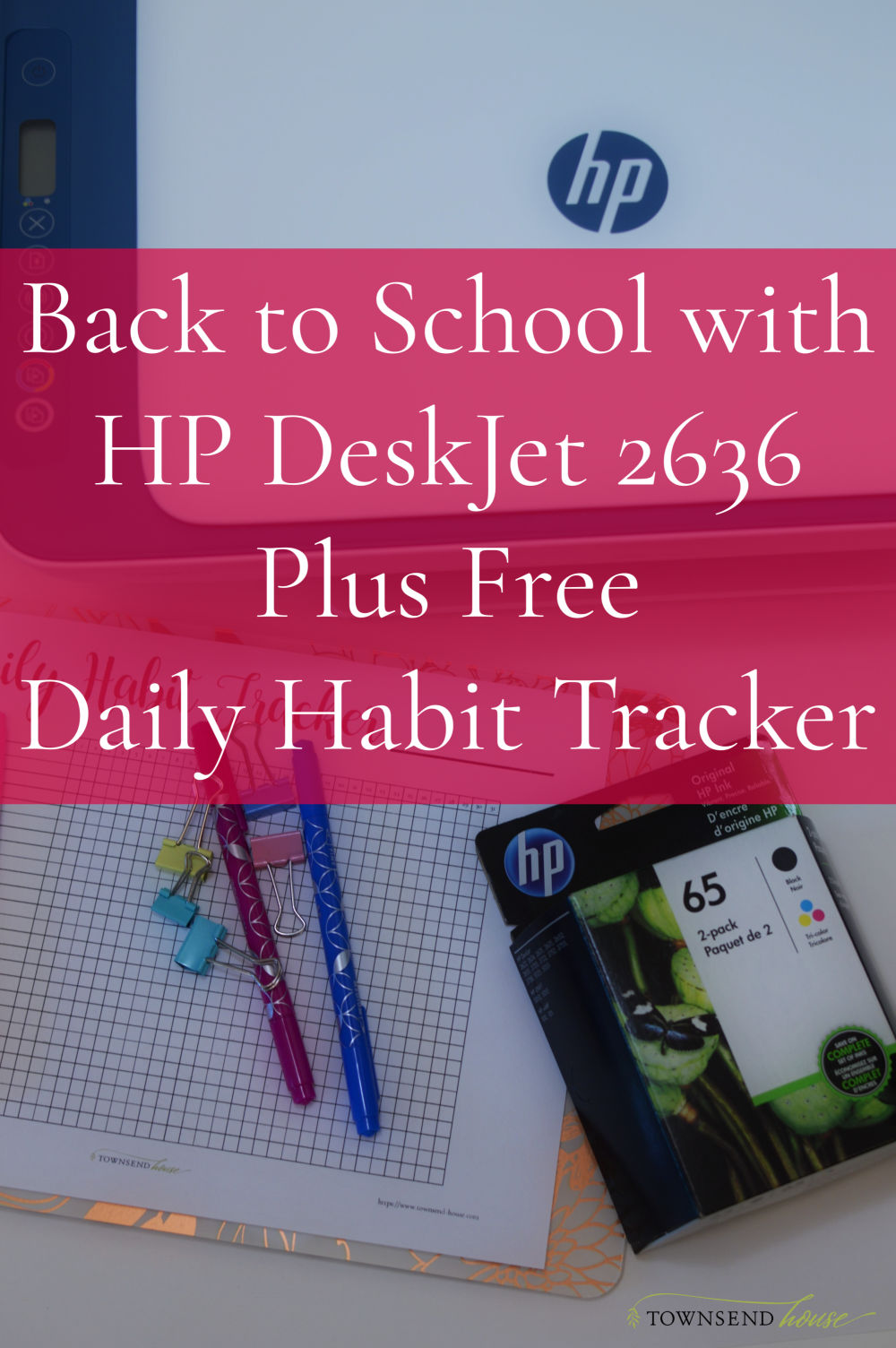 Back to Homeschool: Checklists
The checklist is two-fold. First, you want to be able to see the progress that you, as the teacher, are making in your homeschool. You want to make sure that you are getting to all of the subjects. I know that when we first start back to school, it seems like we never get to all the things. Part of that is because we are trying to plan too much into our day. But, the other part is our kids aren't back into a good rhythm and routine yet. I have found over the years that it is best to create a new rhythm each year, sometimes each season.
Hover over the picture below to Shop Now!
Why do you want to create a new routine each fall? Your kids are another year older. The subjects they are working on are more difficult, and you want them to have enough encouragement to work independently. Checklists are an easy way to move that along.
The other side of the equation? Often when we are going throughout our days we are discouraged by the progress. We think we aren't getting to what needs to be done, or we are worried about forgetting things throughout the month. A daily habit tracker allows you to see the big picture of what you have accomplished while giving your kids a sense of what needs to be done next. If your kids have a weekly checklist of what needs to be done, and you have a monthly checklist of all the different subject areas you have covered, and how often, you will feel better about your overall rhythm and routine in your homeschool.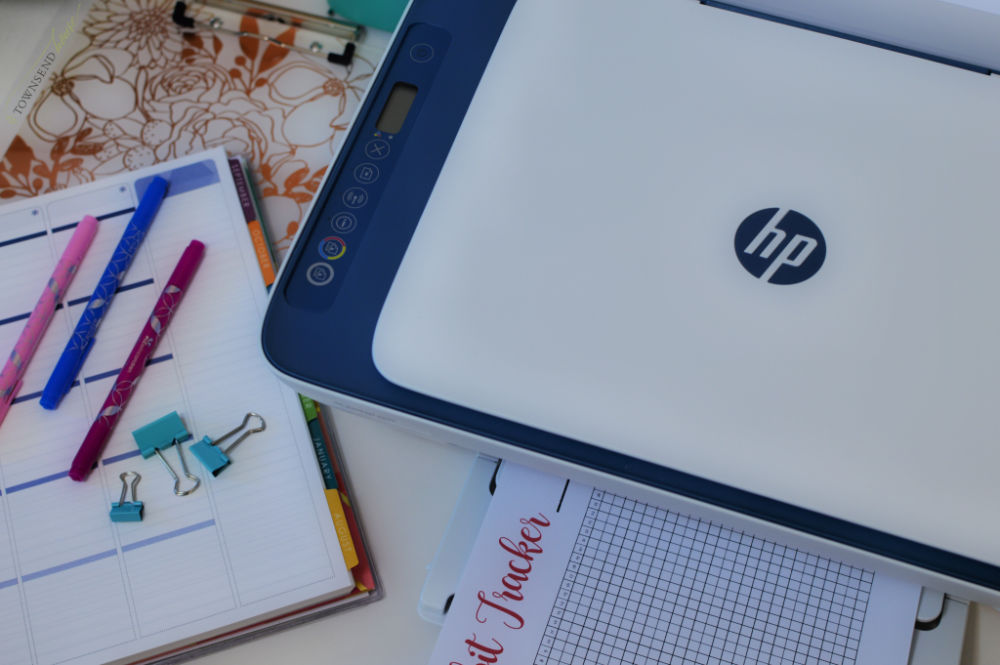 Daily Habit Tracker
We use a daily checklist for the kids' work. It has worked extremely well over the past couple of years. Preparing a list for them to check off each morning allows them to know exactly what needs to be done. It also gives them a little bit more freedom as to the order and when things should be done. The expectation is that it is done before dinner. It doesn't mean that I can leave them to it from am to pm, but it does help drastically with the number of times I ask how much has been done in a day.
The Daily Habit Tracker, though, is for you. The purpose is to show you everything you are doing throughout the month. Often we look back and think, "did we really do anything?" Of course you did, but it can be discouraging. The Daily Habit Tracker helps you to alleviate some of that by having an entire month in front of you to see what you have accomplished.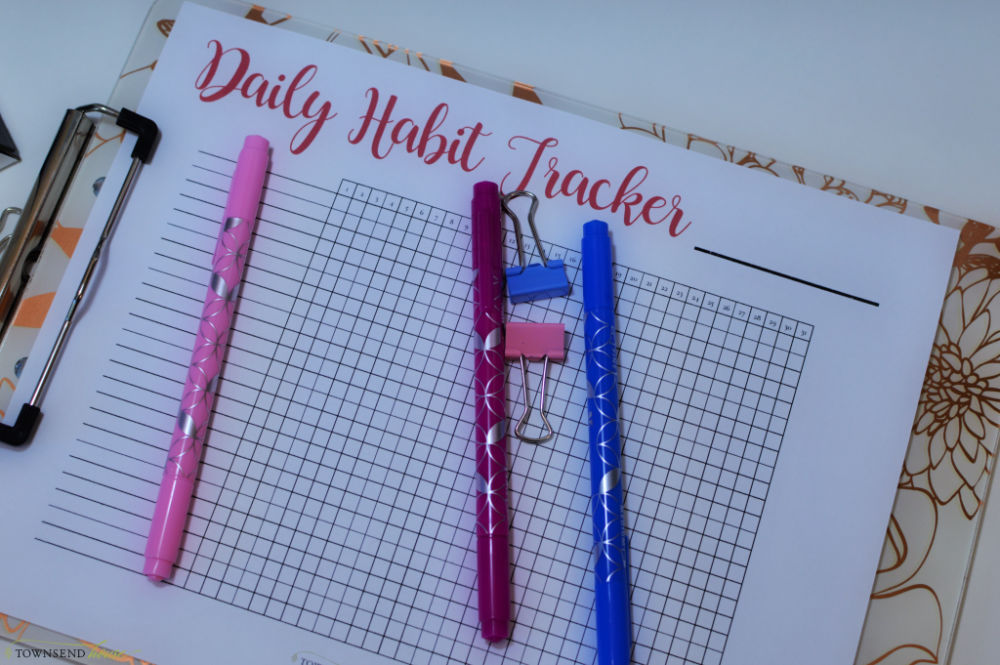 All you have to do for the Daily Habit Tracker is to put the name of your child up at the top, and then list all of the subject areas you would like to cover in a months' time. This means everything! I list out math, science, history, geography, reading, writing, grammar, spelling, dictation, among other things such as character, Bible, and projects they may be working on. Now, when you review how your day went, you can put a check in each box for the subjects you covered.
HP Deskjet 2636 All-in-One Printer
This is where the HP DeskJet 2636 Printer comes in.
As homeschoolers, we print A LOT! You need something reliable, that is consistent with printing, and is cost-effective. You get all of those things with this NEW Limited Edition Walmart Exclusive printer. And one of the fun things about it is it comes in three vibrant colors. We all want something pretty to look at as we are working through our days! But, we also want something that is functional and easy to use.
One of the things that I love most about this printer is its mobile printing capabilities. When I am scrolling through Pinterest and I find an interesting printable I want for one of my kids (or myself!), having the ability to just print right from my phone is so much easier than having to get back to my computer to do so. The HP Smart App makes mobile printing so easy. It even allows my husband to print on our printer from work. The ability to manage printing tasks and scan on the go mobile feature is so helpful, especially with all the paperwork we have to file for homeschooling each year.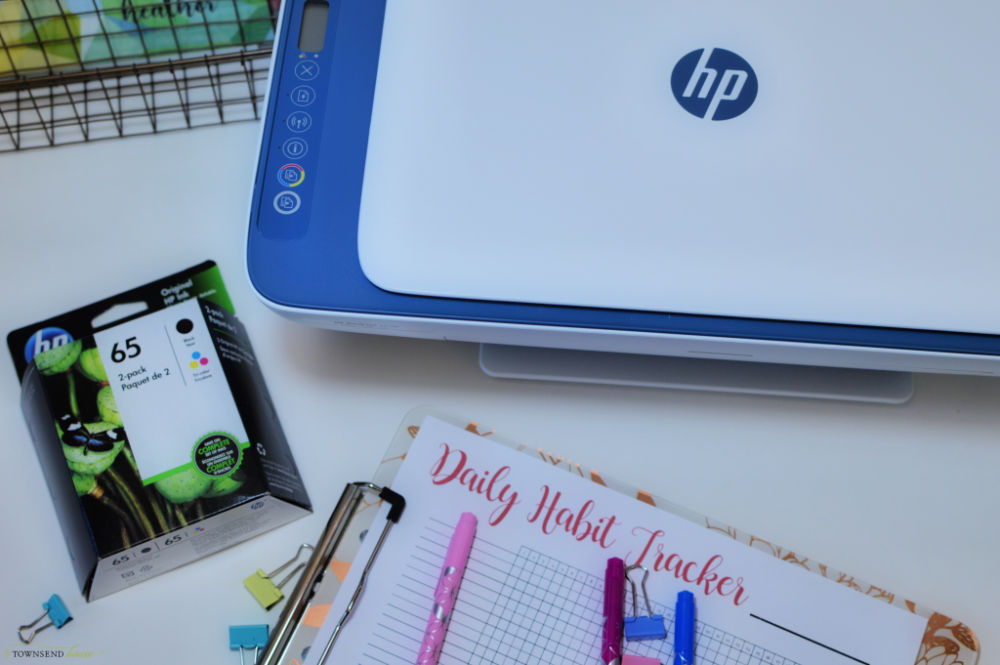 I also love that you can set up your printer anywhere since it is wireless and compact. This means that I can have the printer in a central location for my kids to easily use, and no one argues over whose desk the printer is located on. I know, it is the little things, but honestly, anything to get my kids to not argue is a highlight for me.
Where can you find the Printer?
It is easy to go into your local Walmart and pick up one of these HP Printers. However, sometimes, we don't have time to run out to the store to grab it. In that case, you can hop right onto walmart.com and get it delivered with Walmart's next day delivery! How easy is that! Honestly, sometimes it is easier for us, as moms, to have that little convenience.
All you need to do is go into walmart.com, search for HP DeskJet 2636. Then pick which of the three colors you would like (Gelato, Atlantic Blue, or Dark Sienna). Walmart even makes it easy for you to get the HP Original Ink Combo Pack – because it is listed as an add-on right below!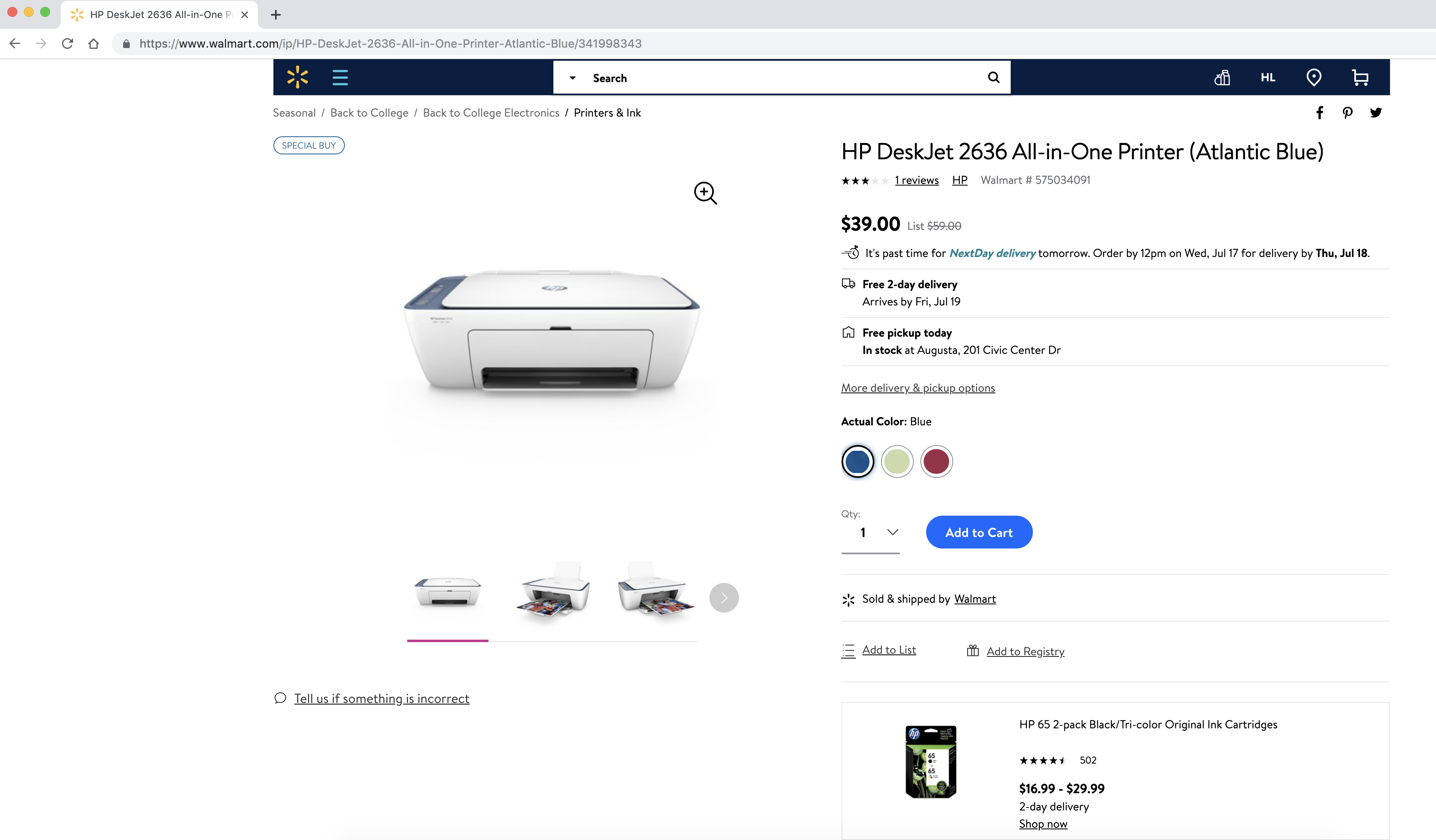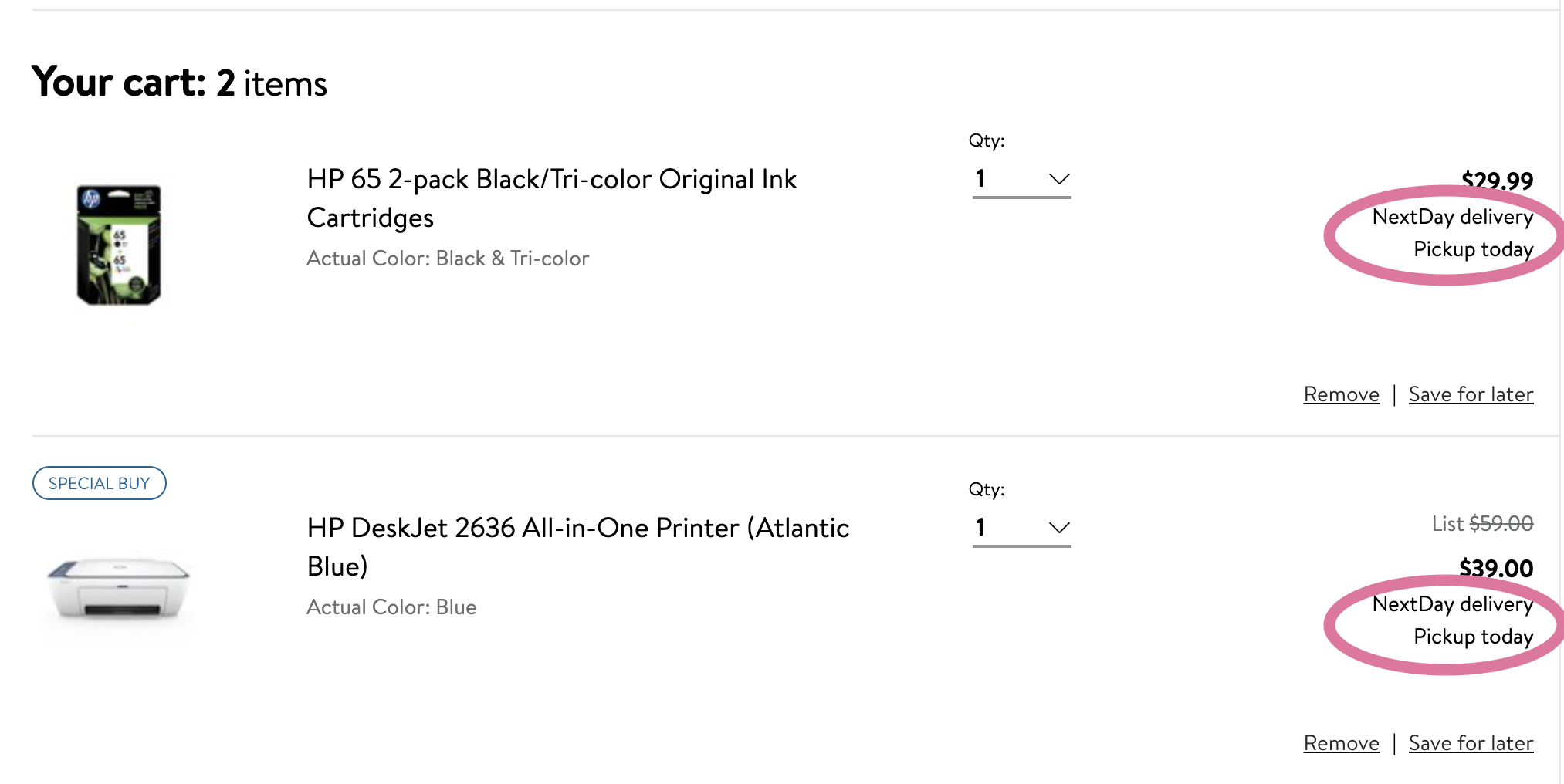 HP Original Ink Combo Pack
Walmart also offers the HP Original Ink Combo Pack, which saves you money printing twice as many pages with their high-yield cartridges. There is nothing more annoying than going to print a large batch of worksheets for my kids and running out of ink. You save money because you are getting the combo pack rather than separate cartridges. Anytime you can save money with back to school is a good thing in my book!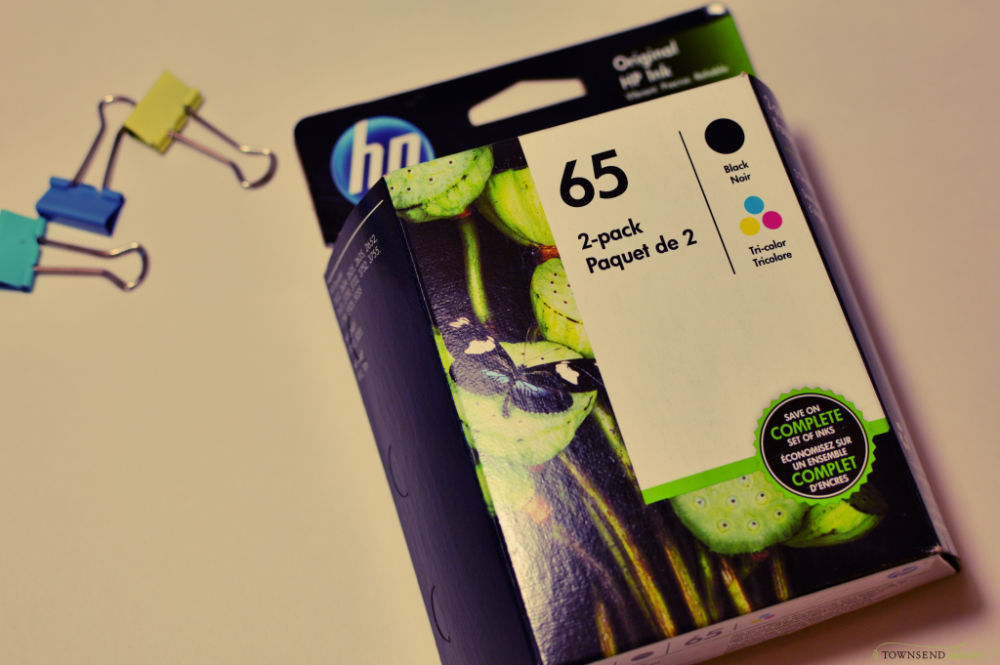 Favorite Features
The fact that this printer is so compact and wireless is such a lifesaver. It seems like we all have so much stuff, that having a place for it is difficult, so when I have a new printer to throw into the mix, making sure it is compact is a huge plus. The output tray will minimize space when it is closed. But, it holds up to 25 pages, so if you are printing a lot, you don't have to worry about all the pages falling on the floor. I remember fondly printing out an entire booklet of information and left the printer to work on something else, only to come back to most of it laying all over the floor and our giant dog laying on top of it all…so if it stays in the tray, that is a good thing!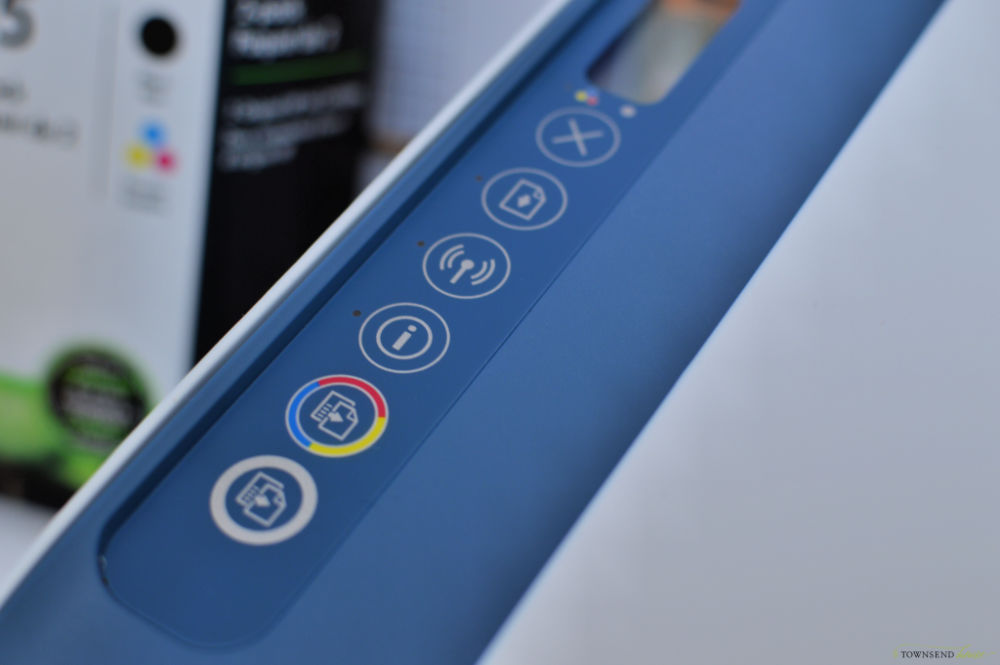 You can also effortlessly manage the printer with the easy to use control panel. No more headaches about which buttons you need to push and when! My kids all love that the printer comes in three fun colors. Anything that is color is a bonus in our house. It helps it become a more personalized experience. I let Jack choose the color and he chose Atlantic Blue. I also love how vibrant the colors are when I printed out the Daily Habit Tracker.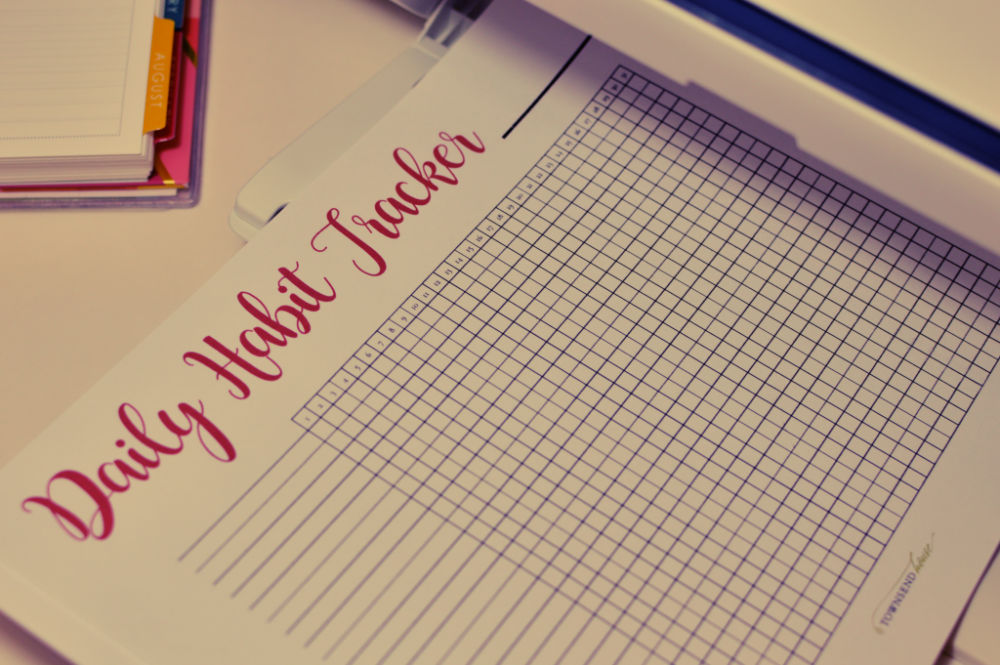 All of your Printing Needs
Today I am sharing one of our printables – a daily habit tracker – to help you and your kids get back into a good rhythm for school. However, this printer from Walmart is great for anything! Whether you are printing out pre-school or kindergarten worksheets like I am doing for Lucy. Or if you are looking for a new book report form for your kids to fill out, this printer is a workhorse. It gets the job done, and is reliable to use. We all need something that is reliable, that doesn't jam, and consistently prints beautiful and vibrant pages for ourselves and our kids.
There are so many wonderful ways that you can use this HP Printer, and I would love to hear how you are using yours!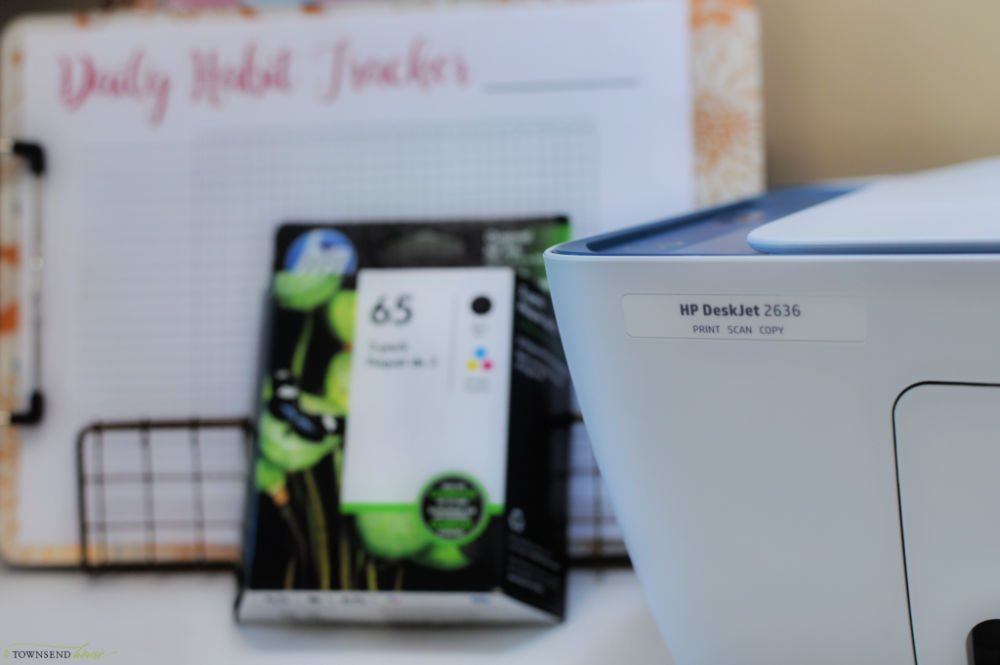 Back to Homeschool Daily Habit Tracker Printable
In order to get the daily habit tracker printable, just fill out the form below and you will be taken directly to the page to download and print!
How are you getting ready for your new homeschool year?