Unique Ways we use Teaching Textbooks on the Go
This post is sponsored by Teaching Textbooks. All opinions, as always, are my own!
This past fall was a doozy for us. We were out of the house and in the car more than any other year that we have been homeschooling. It took a little bit of time for us to figure out what we could still accomplish while car-schooling, but once we got into a good rhythm, it was all so much better! Teaching Textbooks on the go was one of our most successful subjects this past fall.
Teaching Textbooks on the go
One of the best features of Teaching Textbooks 4.0 is the fact that it is now app-based. This means that you can use it on your tablet or phone when you are on the go, and you are able to continue math when you need to, instead of waiting until you get home to use the computer. Teaching Textbooks on the go means that you don't even need to use internet. Yes, you do need access to the internet occasionally to download new lessons and update the grading for your student. However, the flexibility of NOT having to use the internet is so so important.
The fact that it is an app also allows us to have less downtime when there are updates. When we were using Teaching Textbook 3.0, there were often times that the server was down and that was hard to deal with. But, with the app, and only needing to update occasionally, we have had no downtime for math.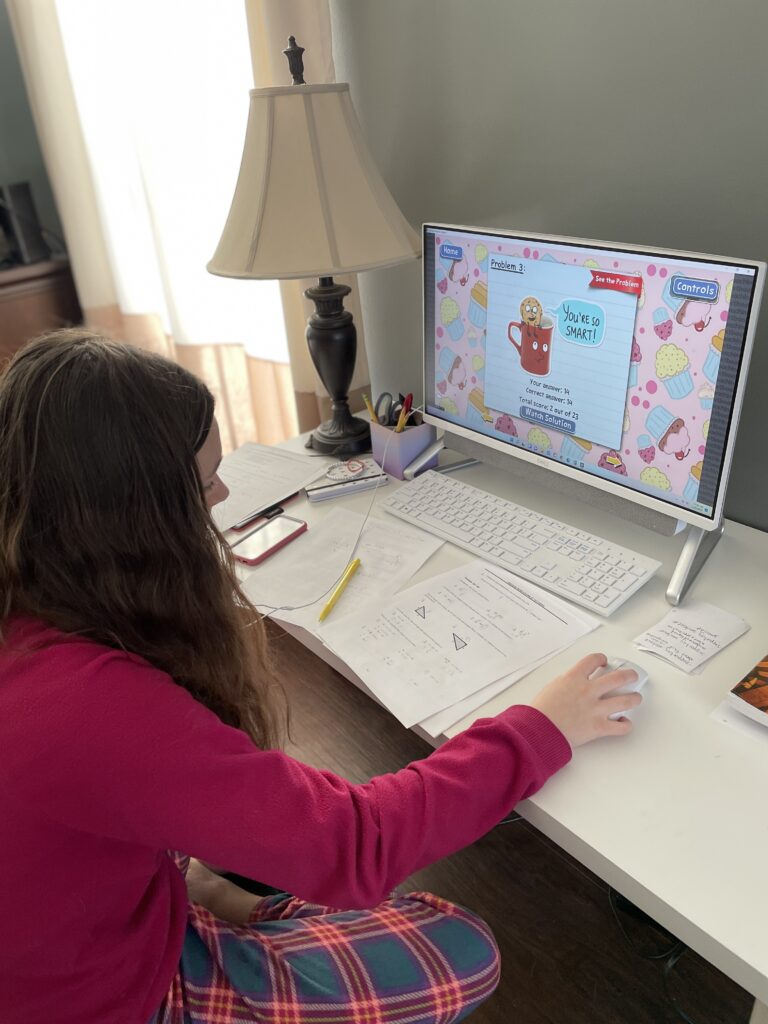 Unique ways we use Teaching Textbooks on the Go
The way that we use Teaching Textbooks on the go is probably a little different than how others use it. But, the flexibility is the key. Each day Emma will get up and watch her lesson on the Teaching Textbooks 4.0 app. And then what I do is I print out the lesson and the extra practice problems for her to do.
I realized that this combination of digital and analog works best for her. She is able to watch the lesson, rewind when she needs to, and then she is able to work on the problems on paper in the car while we are waiting for Jack to get out of band. This is a win-win for us.
Once she is finished working through the problems, she is able to go in and enter all of her answers quickly. If she gets a problem wrong, she then can see the hint and try to fix it, or watch the solution if there isn't a second chance. If she is struggling with the lesson, she will then go to the extra practice problems and work through those as well. Then we can go back and redo the problems that she got incorrect.
Grab your first 15 lessons free by Clicking here or the picture below!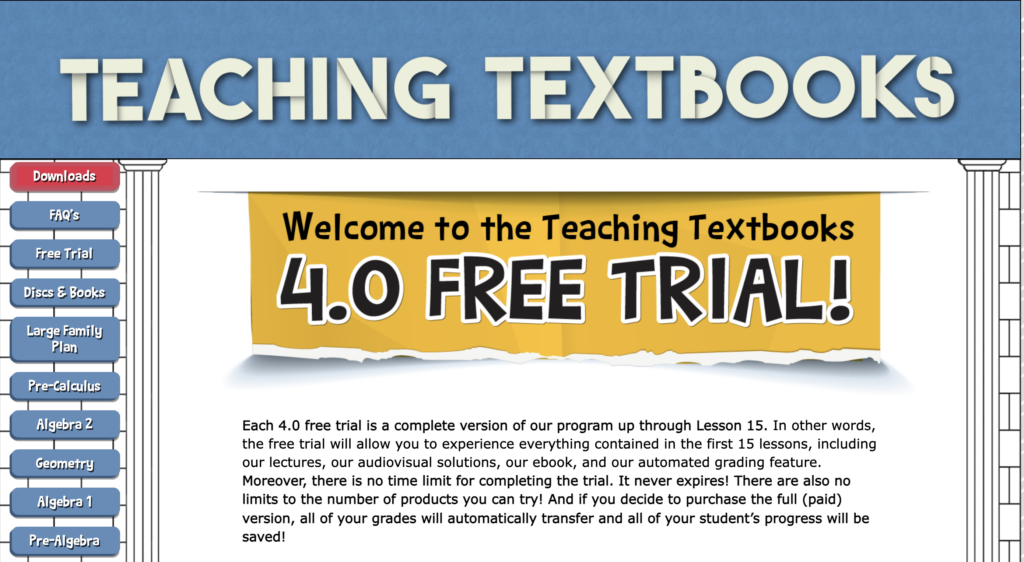 Digital & Analog
This approach to math with both digital and analog has been one of our big wins for this school year. I feel like I am still getting all the benefits of Teaching Textbooks. Benefits like the fact that it is self-graded and available without internet access (which we need when we are sitting in the parking lot!). While also making sure that Emma is able to grasp all of the important concepts of Algebra.
Would we have figured this out if we weren't using Teaching Textbooks on the go? Perhaps, but I think the fact that I had to be creative about our time-management and what subjects we were completing in the car forced me to think outside of the box. The ability to make this program work for us is a big reason that we continue to use and love Teaching Textbooks.
You don't have to bring a bunch of books with you to homeschool on the go. Instead, you can just use your phone or tablet, and then have a clipboard with the problems printed out.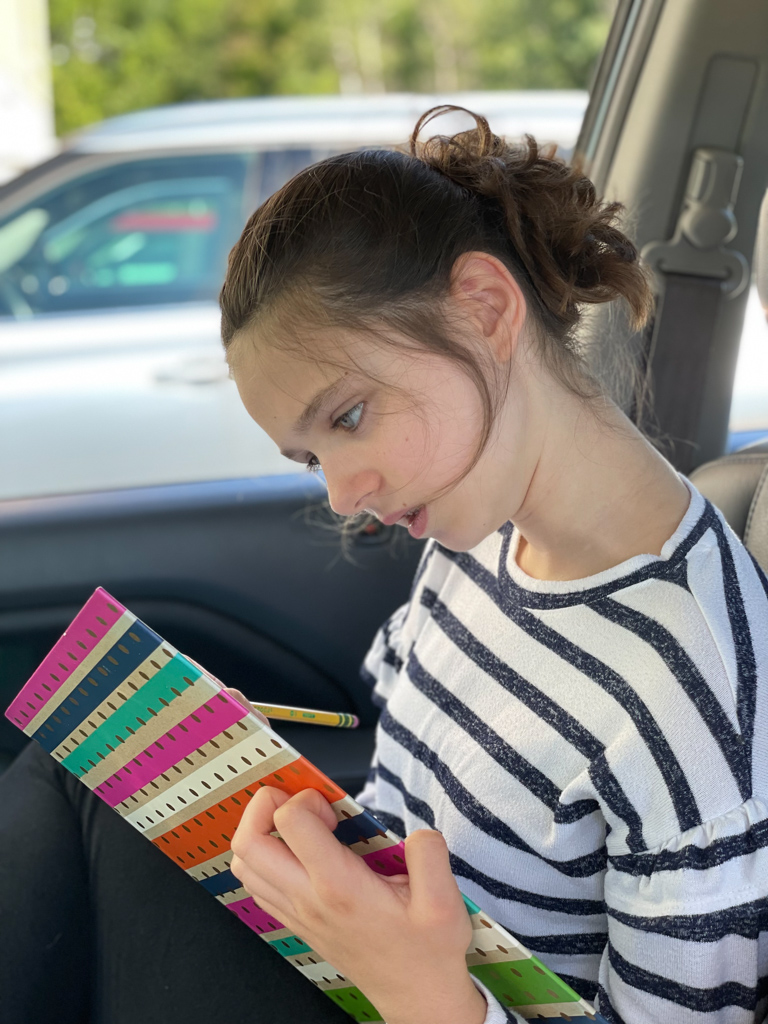 How Teaching Textbooks Cultivates Simplicity
It is one less thing that I have to think about with regards to teaching my kids. I know that Emma is getting a good math foundation, and that she is really understanding all the concepts and terms. Having the ability to make this program work for me, even if it is a little bit outside of how it is intended to be used, is something that I really value.
When a program is not flexible in its execution, that makes it difficult for me to use as a homeschooler. Homeschooling 3 kids at three completely different levels means that I need some level of flexibility, and Teaching Textbooks has delivered that for me this year!
The Bottom Line
Teaching Textbooks on the go is a great option for math for you and your homeschool. They have made it super easy to be able to use with or without internet access. You can use it just as is, and go through everything right on the app with no issue whatsoever. But, you also have the option to use it exactly how you need to use it. It is OK to think outside the box when it comes to homeschool curriculum. Using what works, and adjusting what may not is one of the biggest benefits I see in this program.