I love cooking and eating, and I especially love looking at pictures of food! If you love food as much as I do, please add your food pictures/recipes/food related posts to the linky below. All you have to do is link back to this blog post. I look forward to seeing what everyone else is eating this week!


I did a detox last weekend. It was a 3 day detox through the Hungry For Change documentary website. It didn't really seem like a detox, which made it 100 times better for me. I liked to think of it as a kick start to eating healthier. I have been moving towards a mainly plant-based diet for some time now, and this was a great way to keep working on that path. It was pretty much a green juice for breakfast, salad for lunch, and soup for dinner. Overall, really really great. But, the thing that I wanted to share with you today is the green juice.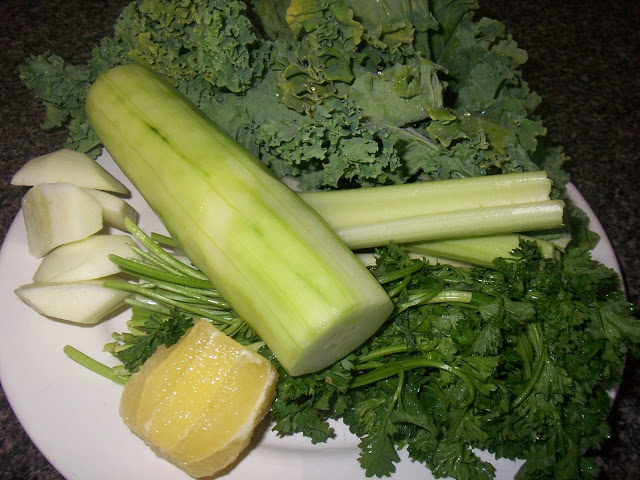 I have been making green smoothies for a while now, and my family loves them. My kids request them all the time, and I couldn't be happier to blend up some kale and fruit for my kids. I was a little concerned moving towards green juice, mainly because I had heard so many people say that it was bitter and hard to drink with kale in it. Luckily, I had saved up enough amazon gift cards through my very awesome swagbucks account to purchase a juicer online back in December. Best. Purchase. Ever.
I absolutely love juicing now, and this juicer is quite good for a mid-range model I think. I wasn't sure how the rest of my family would feel about juicing, but surprisingly, everyone loves it. Jack especially. I will make a juice for me, and he ends up drinking the whole thing. So now I have to make sure to have enough juice for everyone – which does get kind of pricey.
The benefits of juicing are so many, that I don't mind spending a little extra money in order to keep us healthy.
Green Juice ~ 1 pint


2 large kale leaves
1 cucumber
1 handful parsley
3 celery stalks
1 apple cored
1 lemon peeled
Do you juice? Have you watched Hungry For Change? It really is an amazing documentary. Link up your food posts below!






Linking up with Clever Chicks