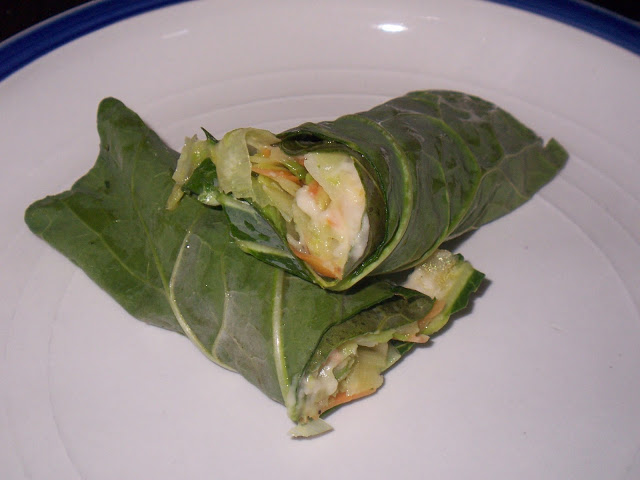 I knew that getting collard greens in our CSA share this week meant that I would be making collard green veggie wraps for a meal this week. I love the taste of collard greens, and it makes a great replacement for tortillas or bread. Typically I would make a raw wrap with summer veggies – tomatoes, peppers, onions, carrots, sprouts – with a little avocado and lime juice, and it makes an amazing and healthy lunch. Unfortunately, it is no longer summer here in Maine. Instead I had cabbage, carrots, parsnips and leeks in the fridge. So, I made a cold weather wrap instead 🙂
First I made a white bean and garlic spread. Take a half pound of cooked white beans (I used navy beans), stick in a blender with 3 cloves of garlic, the juice of half a lemon, and some salt. Turn the blender on and add as much extra virgin olive oil you need to make a spreadable dip. I think I used about 1/4 cup of olive oil. This is very garlic-y, so if you don't like a strong garlic flavor you may want to start with 1 clove of garlic and add more as you like. I love garlic, so I used a lot. As an aside, I have never made a white bean dip before, but this was delicious, and I think would be really good with crackers or raw veggies. Also, a good alternative to hummus which some people don't care for. Not to mention super easy 🙂
I then finely shredded one head of green cabbage, chopped up one leek (the white and a little bit of the green), and took a veggie peeler to one large parsnip and 4 carrots. I threw that in a saute pan with some olive oil, salt, pepper and red pepper flakes and sauteed until it was relatively wilted. Then I took one collard green leaf, cut out the stem, put some of the bean spread on the leaf and added some of the veggies.
They came out really good! I was wondering how it would be with the warm dip (I had just taken the beans off the burner and made the dip while the veggies were cooking), and warm veggies. The collard green held up really well, no wilting, and it was a nice little lunch for us.
How about you? Do you use collard greens as a bread replacement? What is your favorite wrap?