what i am eating – Quinoa Salad with Cilantro Lime Dressing
I love cooking and eating, and I especially love looking at pictures of food! If you love food as much as I do, please add your food pictures/recipes/food related posts to the linky below. All you have to do is link back to this blog post. I look forward to seeing what everyone else is eating this week!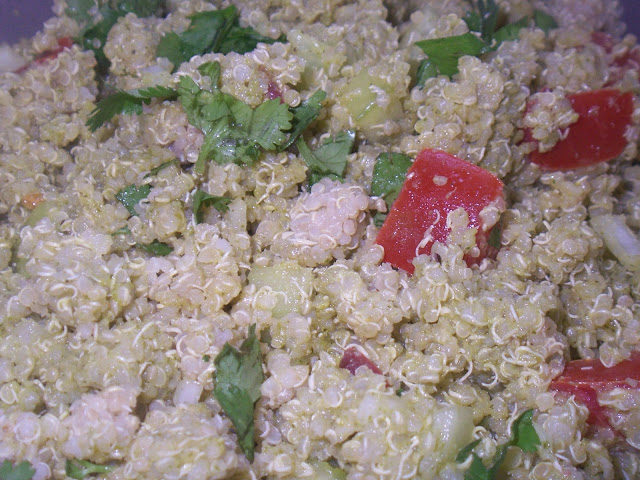 Quinoa Salad with Cilantro Lime Dressing
Last weekend was Easter, and I planned a very large veggie based meal. It was really awesome to plan a vegetarian Easter! I roasted root veggies (potatoes/parsnips/carrots/onions), made a fruit salad, made a quiche from our chickens eggs, had spinach salad with strawberries and an orange balsamic dressing, and I made a quinoa salad with a cilantro lime dressing. It was all delicious, and although we were all full at the end of the meal, I didn't feel the same sluggishness that I sometimes feel after a feast meal – maybe I just ate less!
Quinoa Salad
2 cups dried quinoa (rinsed well!)
4 cups water (or veggie stock)
2 tomatoes, chopped
1 seedless cucumber, chopped
1/2 large sweet onion finely chopped
cilantro leaves for garnish
salt and pepper to taste
Cook 2 cups of quinoa in 4 cups of water or veggie stock. Make sure that you rinse the quinoa before you cook it! Otherwise it will be extremely bitter. Simmer for ~ 20 minutes and then fluff and set aside.
Chop and dice tomatoes/cucumber/onion and put in a bowl. Mix with the quinoa. Add Cilantro Lime Dressing (below) mix together and serve. Can be served hot, warm, or cold 🙂 Perfect for BBQ's or potluck meals!
Cilantro Lime Dressing
juice of 2 limes
2 T balsamic vinegar
1 good handful of fresh cilantro
3 cloves garlic
3/4 cup olive oil
Put all ingredients in a blender, and blend until combined and no chunks of garlic are in there. Pour over Quinoa salad, mix well. This would also taste delicious over a taco salad, and you could definitely add a chopped avocado to the dressing and decrease the olive oil a bit. And you could also put a jalapeno pepper in this – which would be delicious, but too spicy for my littles mouths.
What are you eating this week? Coconut Milk post will be coming, in case you were looking for it!