Personal Reflection on my Word of the Year

This post contains affiliate links. If you purchase something through one of these links, I will receive a small commission at no extra cost to you. Thank you for supporting this site!
We are officially ending the first full week of 2016. It seems a little surreal to me. I'm not sure why. I think the fact that up until Wednesday my
kids had been giving me a run for my money in the sickness department may have
had something to do with it! Add in the start of homeschool after our very long homeschooling break and it
ended up being a busy week!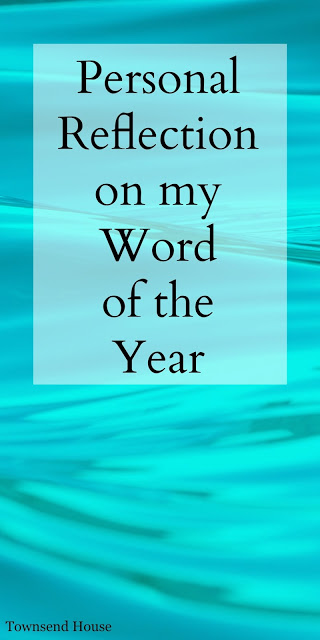 I haven't had nearly the time I expected to sit down and
work on my goals. You know what
though? That is OK. 2016 is a full year, and just because I can
cram my goal making into a week doesn't mean that I necessarily should.
I love setting goals, it is a highlight for me, and while I
talk about my big yearly goals in January, I tend to sit down and think about
goals at the beginning of each new season.
That is the key word, think.
I love to think about goals. I
love to think about how I want my life to be, I love to dream. It is something I can easily spend hours
on. In fact, I think so much that I
often sabotage myself.
While thinking up
goals is important, not having the action steps to complete those goals is
essentially failure.
Last year, my word of the year was intentional. It was a perfect word for the year I had in
mind. After having a new baby at the end
of 2014, I needed to be intentional about spending time with my older kids, about getting myself healthy again, to figuring out homeschooling with two kids and a
baby.
I spent a lot of time getting to know myself. I took Tsh Oxenreider's awesome Paddling Upstream course. I wanted to dig deep, to really know why and
how I tick. I was being intentional with
my time, with figuring out life. It was
quite life changing actually, to know why I do certain things, why I think a
certain way. If you haven't taken this e-course, I definitely recommend it. And January is a perfect time to start!
It was a year of a lot
of introspection.
Then I started thinking about my word for this year. After such a great 2015, how could I make
2016 even better? Not to say that 2015
was without challenges, obviously there were challenges.
This brings me to my word of the year for 2016 – Action.
After I chose that word, I went to search on my friend
Google to see what I could come up with.
One of the first quotes that I saw:
Action always beats
intention.
It is interesting that that
quote was the first one that popped out at me.
I have written before that I love to take my time with
goals. Even at the beginning of this
post I talked about my love for thinking. But, no matter how intentional I was this
last year, I realized that I needed to be the one to also take action.
When I think about my life, I know that if I don't work on
certain things, they will not get done.
I do not have a magic cleaning fairy at my home that will keep everything in order
(if you do, could you please loan her to me for a couple of days?!). If I don't schedule time for self-care, I don't
take care of myself.
Picking action as my word of the year could be a recipe for
disaster. I have so many things running through
my head that I want to change, I always do.
But, narrowing those things down and making them into concrete goals
with action steps is going to be a priority for me this year.
My first action of 2016 will be to finish writing out my
goals for the year. I have already
shared a few home goals that I have, as well as some crafting goals as
well. I am still working on my book list
for 2016, and my personal goals. I hope
to share those soon.
Overall, I think that action
is a perfect word to go with my theme of the year – organize my life. Clearly
that theme will take a lot of action on my part, and I hope that you are going
to jump in with me and enjoy the ride.
Do you pick a guiding
word for the year? Are you slow to set
goals for the year, or were you finished on December 31st?