I have been so concerned this year about pests in the garden Slugs, cucumber beetles, stink bugs; if it is little, I have thought about it! I didn't, however, consider the larger, furrier pests.
Last week I went outside to let the chickens out and walk around the garden, like I do every morning. Instead of looking lovingly at my plants, I was looking at half-eaten cabbage plants. I was not pleased! How can this be!? I spent so much time trying to keep the plants safe from the little bugs that I forgot about the bigger pests that always plagued my mother's garden.
I knew that there was a woodchuck family living close by. I had seen the mother out eating in the neighbors yard, and Matt said that he had seen ten next door…so we knew they were around. We also knew that there was a family of grey fox living down the street (because the male was out barking at my mom while she was sitting on her deck – not something I had ever experienced!), and I thought that they took care of the woodchuck issue because I didn't see them out anymore.
I had a small bit of garden fence that I was able to use and enclose a couple of the boxes – the cabbage and the majority of my lettuce. I knew I needed a better solution when I went out and found most of my kale missing the next morning.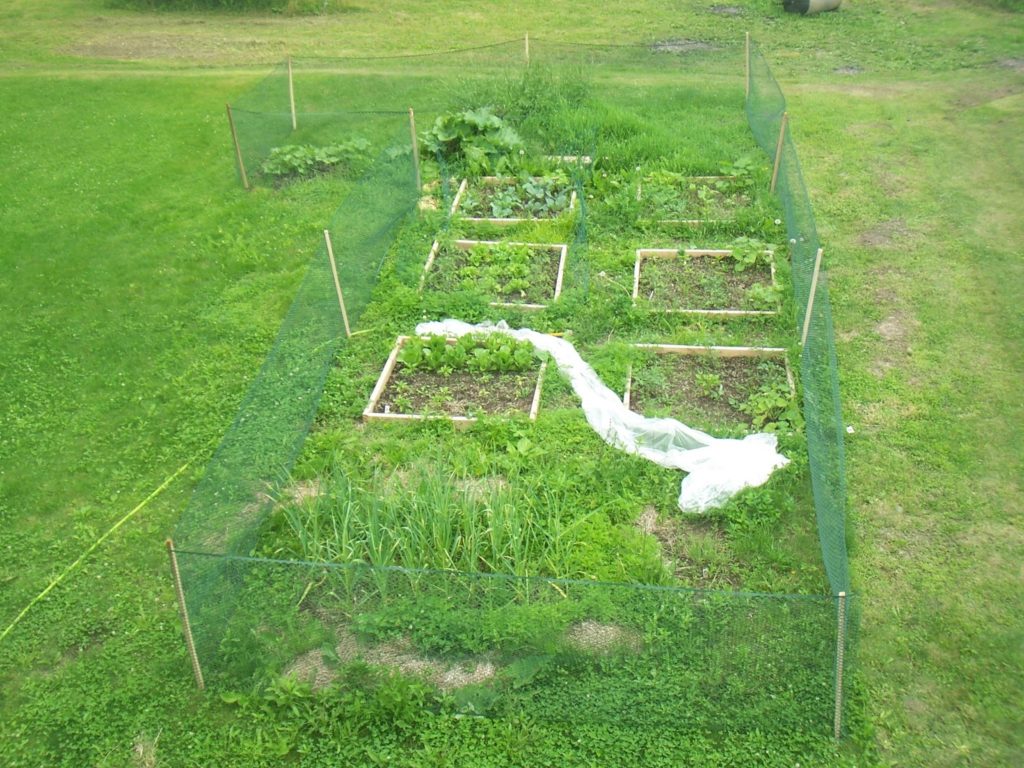 So, this past weekend, my husband, being the ever helpful spouse, went out and put garden fencing up around the whole garden. Now if he will just make me a door so that I can get in and weed the garden…that will also be helpful!
I think it is the woodchuck family, but it could also be whatever is now spending nights digging underneath the chicken coop and stealing the random eggs the chickens sometimes lay under there. If it isn't one thing, it is another!
Have you had any unexpected pests visit your garden recently? Am I the poster child for garden pest issues?


Linking up with Homestead Barn Hop, Clever Chicks, Green Living Thursday