How to use Rhythms and Routines to Live a Life you Love
Rhythms and routines are the backbone of our lives. I made this statement at the beginning of the week when we were talking about weekly routines. You may notice a theme of this week, rhythms and routines. But, why are they so important? And how do you figure out the right ones for you and your family?
Some of these answers will come once we go through your time inventory next week. How is it going for you? Are you writing down all the things that you are doing every day? I hope so! This is very important to see how you are spending your time, and how long things take each day.
Rhythms and Routines Combat Decision Fatigue
We have talked about decision fatigue already in this series, but it is something that I believe needs more consideration. You may hear that decision fatigue is not great, and you may even believe it, but how do you change it? Rhythms and routines, and even habits, will allow you to reduce decision fatigue because you are removing a lot of the day to day decision making that you typically have.
When you successfully implement rhythms and routines, you begin to reduce your daily decisions because you already know what is next. There isn't a lot of thought that needs to go into it once it is established.
But, How do you establish these Rhythms?
That takes a little bit more work, but it is work well worth it! We will be going through this a lot more next week when we are looking at our time inventory, so stay tuned for that.
I would love for you to join us for my Creating Margin Course that starts on 10/31. Don't miss out on this amazing opportunity to put your life on the right path before 2023! CLICK HERE or the picture below.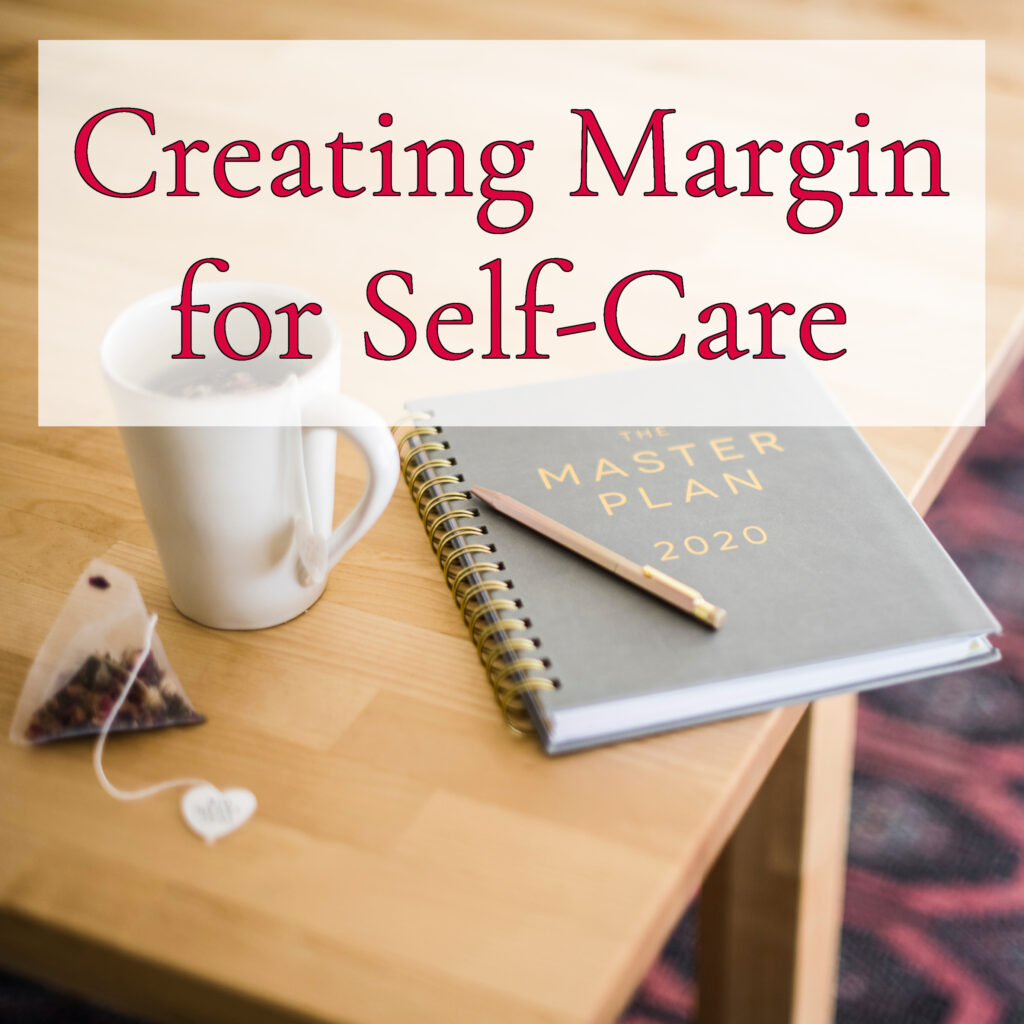 Where to start?
This post includes affiliate links. If you click on one of these links and make a subsequent purchase I may receive a commission. Read Disclosure.
The first place you want to start with your rhythms and routines is what you want your life to look like. What are the things that you want to do daily/weekly/monthly? Are there activities that you want to incorporate? Traditions that are important to you and your family? I feel like you already know where I am going with this, but take out your notebook and write down these items. Brainstorm, brain dump, write down all the things.
What do you want your life to look like? That is where you want to start. It's OK to dream here. What would you be doing in your every day if you were living your best life?
I know this can be a little challenging, because as homeschool moms we have a lot on our plates already. We aren't necessarily doing a whole lot of dreaming because we are still making the meals, cleaning the home, teaching the kids. But, it is a good place to start!
Reverse Engineering Your Rhythms and Routines
One of the best ways to get to the heart of a matter is to reverse engineer it. This works for rhythms and routines, it works for goals, it works for homeschool planning. It is challenging, but the reward is there for you to grab!
So what is it? It is taking the end in mind, and then working backwards. You will continue to drill down as you go until you get to a manageable first step.
We can take our morning routine as an example. You have a list of things that you want to accomplish each morning. Well, first you need to figure out how long each of those tasks will take. Then you need to make sure that you are getting up in an adequate amount of time to complete those tasks. Then you choose the most important one, and start there. Obviously, depending on the rhythm or goal you are working on, the reverse engineering method will be longer or shorter. But, this is just an example of how to start.
If you are looking for more help as you start to consider your rhythms and routines, make sure to pre-register for my workshop on Creating Margin HERE! On sale until 10/28. We start Monday October 31st.
Just Start
This has been a running theme throughout this series. These are all just jumping off points for you, but you need to be the one to put in the work. Creating the lists that you need to work from is just one way to start. You can also draw out different ideas. Mind maps are an amazing way to figure out rhythms and routines, as well as goals, and all the steps you need to get where you want to go.
But, again, the most important thing is to start.
I have the ability to think about things a lot. I can create all the dreams, and I can create all the steps, but then it is almost like there is a block in my way, and I can't actually start the thing. I may know the first step, but why can't I start?
This is something that everyone has to overcome on their own. It can be challenging to start. There is fear involved, fear of failure, fear of wasting time, fear of not doing it the *right* way. But, I am here to give you permission to just start. Even if the first step is a failure, at least you are trying, at least you are starting to make progress.
Rhythms and Routines: Trial and Error
There are always going to be trials and errors as you set out to live a life you love. Some of your ideas and tasks and things you THINK you will love, turn out to be not great for you and your family. Maybe it isn't the right time for that particular rhythm – morning routines when you just had a baby are not easy to implement, and I don't recommend it!
You are going to have to work at a bunch of different things before you find something that works for you. But, don't be discouraged about that. It is part of the journey, and honestly an important part.
I know that I would love to be able to grow all of our own food. However, it isn't a possibility right now with a lot of the other things we have going on. Years ago, I was able to grow a lot more of our food, but it isn't the case at the moment. Does that mean that I am a failure? No, it just means right now is not the right time.
The Bottom Line
When you set out to create your own rhythms and routines, you need to keep your current life and circumstances in mind. Does that mean you cannot have the big dreams? No, not at all. But, being realistic when you set up these rhythms is important.
It is absolutely OK to dream, in fact I encourage it! But, if this is not the right stage for some of those dreams, just set them aside.
Look at your list of rhythms and routines, and pick one to reverse engineer today. What do you need to do today in order to make progress on creating that rhythm? Let me know in the comments or email me so we can chat!